Configuring Your Warehouse Inventory Dashboard
Warehouse managers and staff know all too well the challenges of effective inventory management and the importance of implementing a Warehouse Inventory System. Our powerful Warehouse Barcode Inventory system can hold thousands if not millions of inventory items, with different types of information, data, forecasts, locations etc. that can be presented to you at any second. However, sometimes users just want the highlights for a quick look.
Our Warehouse Inventory Software allows you to completely configure your dashboard, so you are presented with the most important data, in a way that makes the most sense to you. Here, we'll demonstrate how to configure your Warehouse Inventory system's dashboard to manage all warehouse inventory with ease.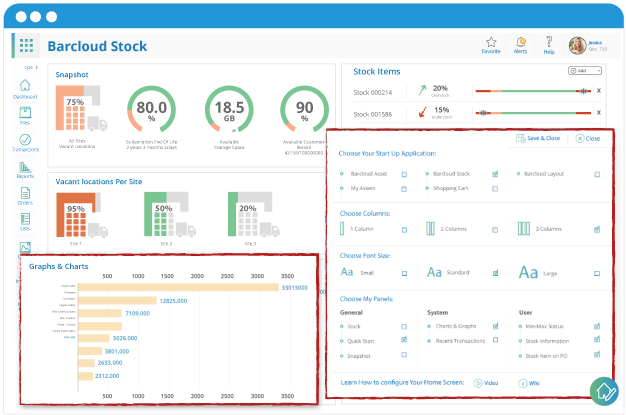 1
2
How to Configure Your WMS Inventory Dashboard Through A Web Browser
1The Dashboard is designed to give users a high-level overview of what is going on in the system. This can include a multitude of things, such as a list of recent transactions or charts/graphs for more analytical data.
2Each user can configure their Dashboard the way they wish. This would include by selecting the start page (if the user purchased more than on product), how many columns the panels are broken up into, and even changing the font size of the information to help lay things out as needed.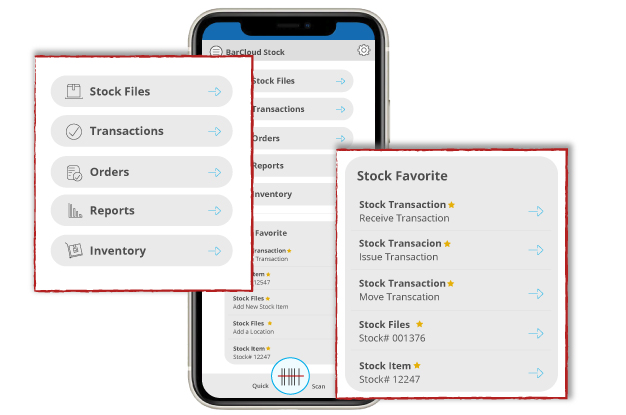 1
2
How to Configure Your WMS Inventory Dashboard Through The Mobile App
1The top section of the mobile dashboard is where users can access the primary functions of daily usage. This will include transactions (such as Receive, Move, and Issue) and inventory (users can see what is currently on hand) which are the two most used features of the mobile app.
2The favorites section of the mobile app dashboard can be modified by the user to contain specific functions they specifically perform often. This will give quick access to these areas without having to navigate from the section above.