Asset Software for All Users
Designed using state of the art technologies, our Barcode Asset Tracking System takes into consideration all types of organizational personnel. We carefully developed this Asset Tracking system with a variety of interfaces to cater to the abilities of all users. The types of users in our System are: Administrative Users, Concurrent Users, Mobile App Users, Department Managers, Non-System Users, and View Only Users.
Administrative Users have the most control within our Asset Tracking Solution.  These Admin users have the ability to configure the system, assign security levels, and address the technical needs of the entire Organization.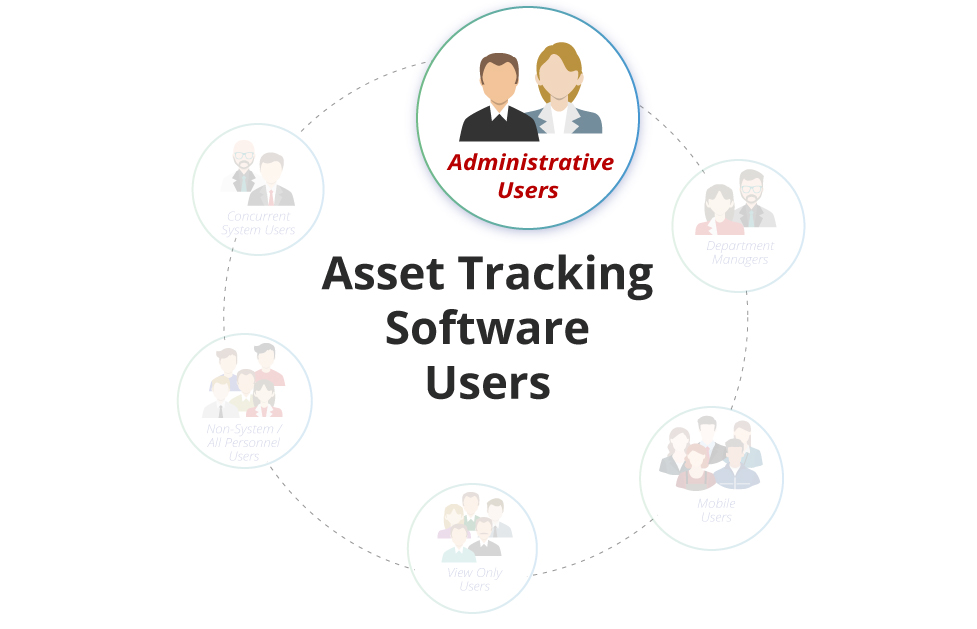 The Abilities and Functions of Admins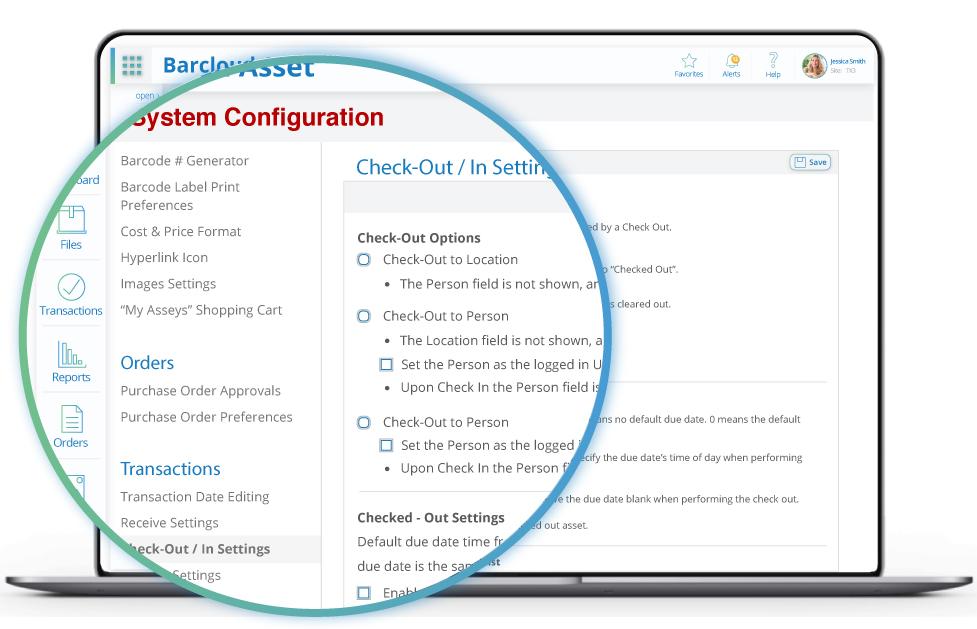 Configure 50+ Barcode Asset Tracking functions to match Organizational needs and requirements 

Implement transaction settings

Create new sites

Set Security levels for Users 

Generate Global Asset Reports on important departmental data 
Our Asset Tracking System is extremely user friendly and offers concurrent, or daily users the ability to quickly navigate the interface as needed. These Users have the ability to access all aspects of Organizational Assets, including adding, moving, and all other designated functions of the software.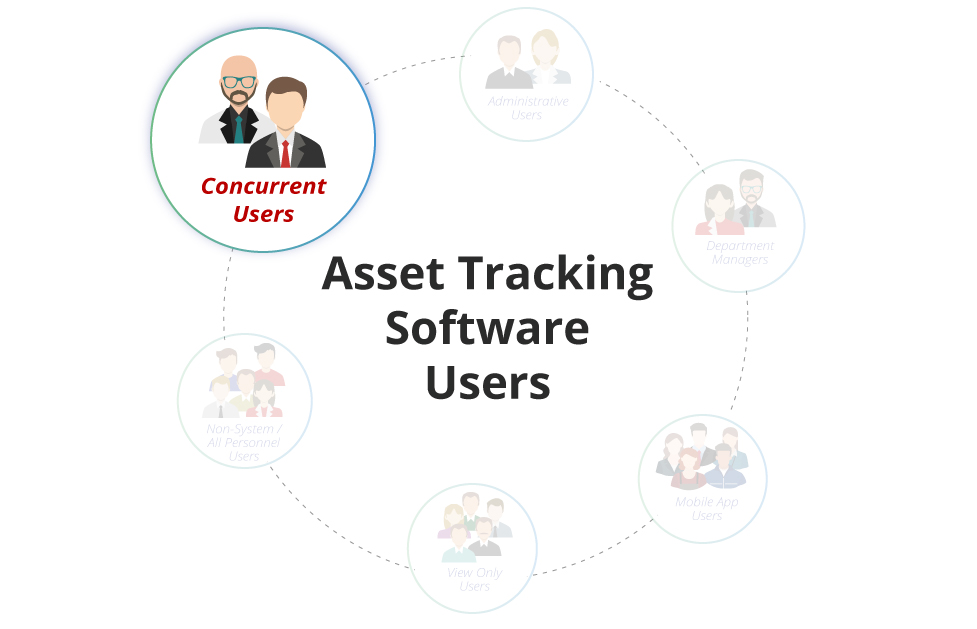 The Abilities and Functions of Concurrent Users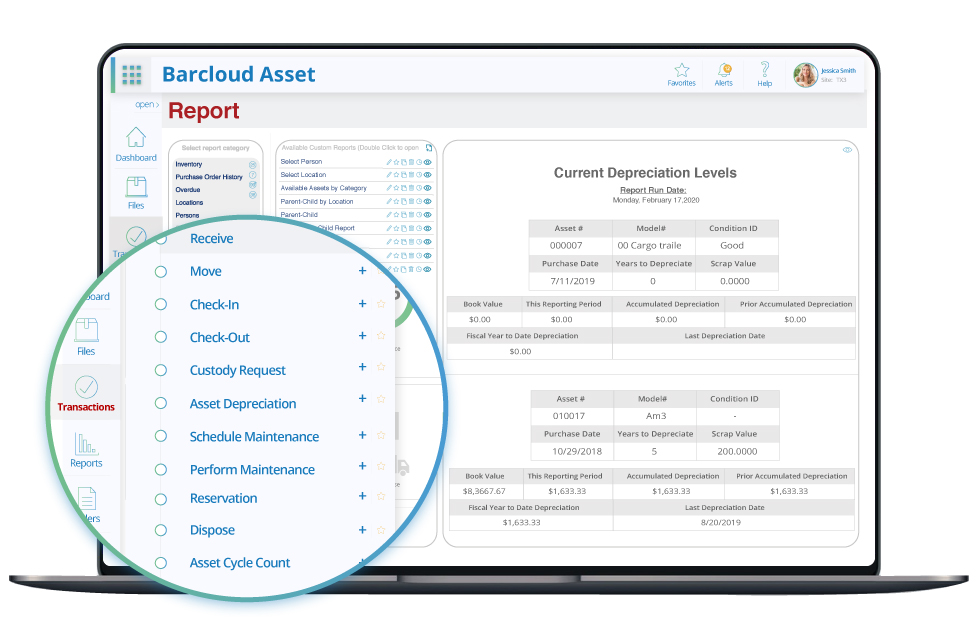 Conduct Asset transactions 

Create new Asset records 

Run pre-existing and self-made Asset reports

Configure personal view preference

View historical Asset data
Our Asset-Tracking System comes with a mobile app that allows users to conduct transactions via barcode scanners or any iOS or Android device.  These Mobile App users will be scanning assets as they come into your facility, office, or warehouse to ensure every asset transaction is accounted for.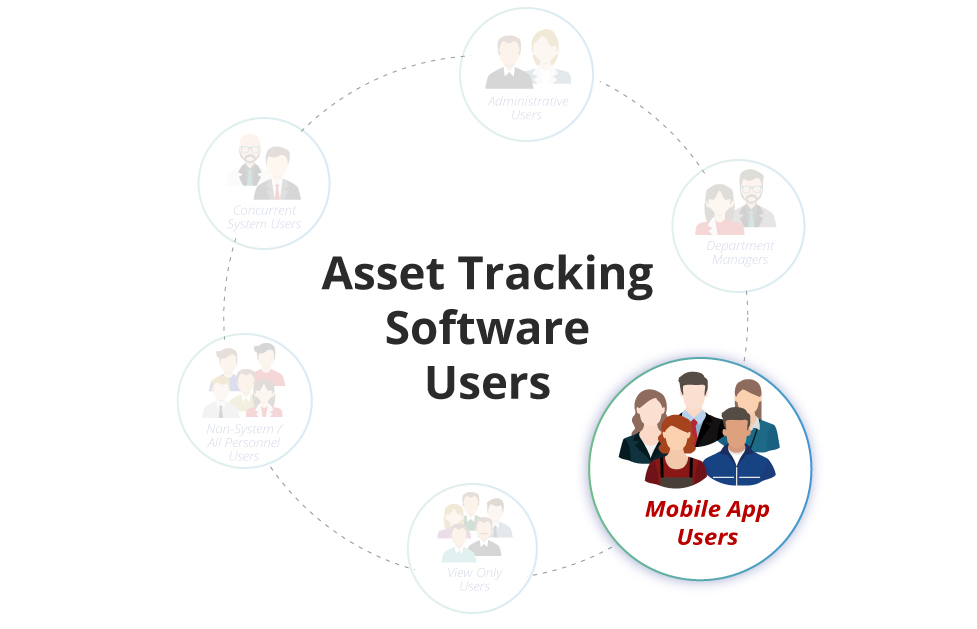 The Abilities and Functions of Mobile App Users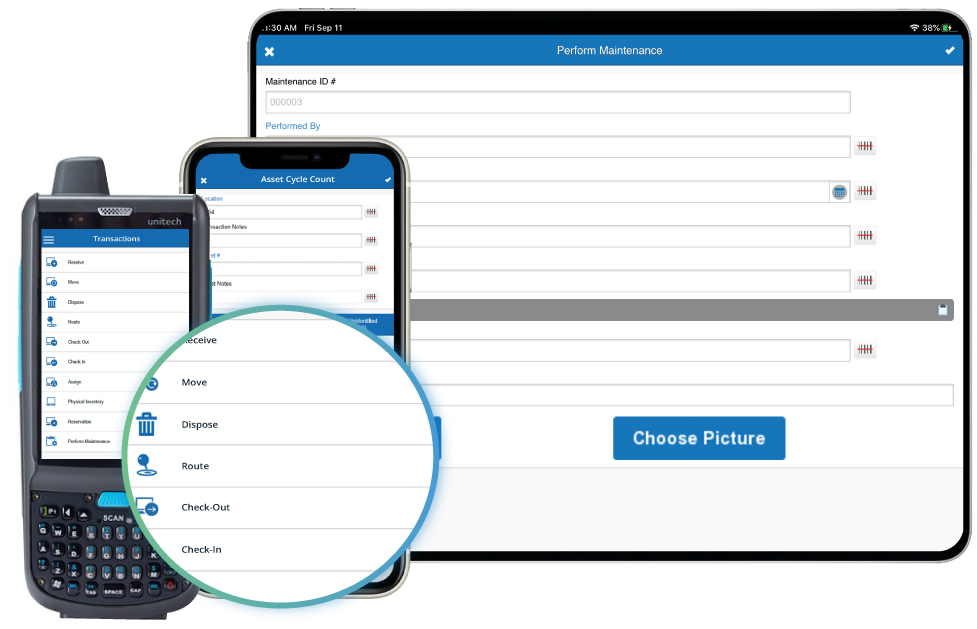 Access the Files menu items for Asset details such as model, location, person, vendor and picture

Add new or view existing Asset items 

Perform numerous transactions such as: Add, Move, Check-in/Check-out, Reservation, Maintenance, Dispose
Our Asset Tracking System provides Managers with full visibility over their personal and department Assets. Managers have full visibility over all users and their assigned Assets.  Managers can request Asset maintenance, disposal, return, and report Not-In-Custody on behalf of their employees.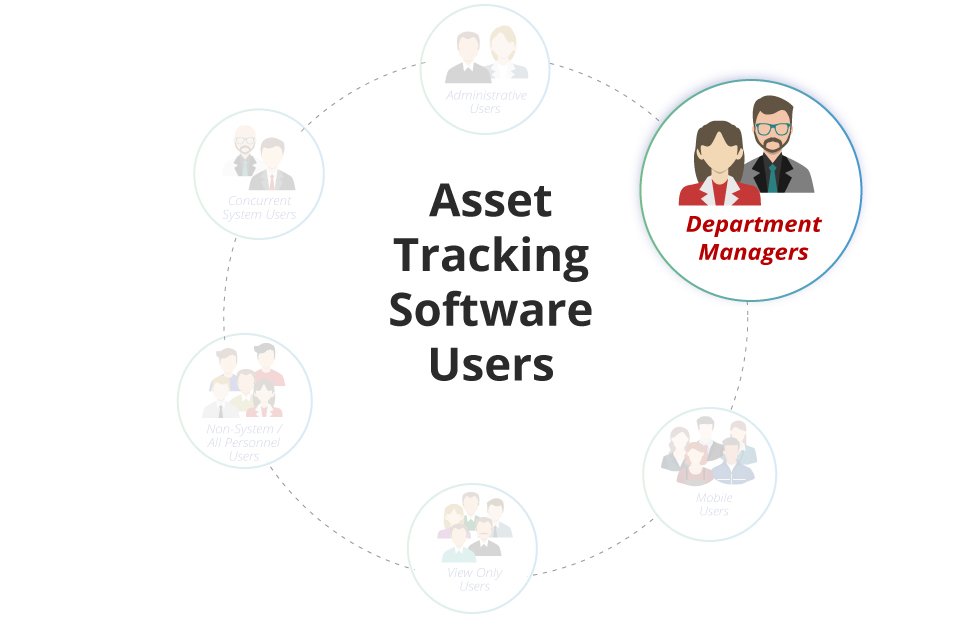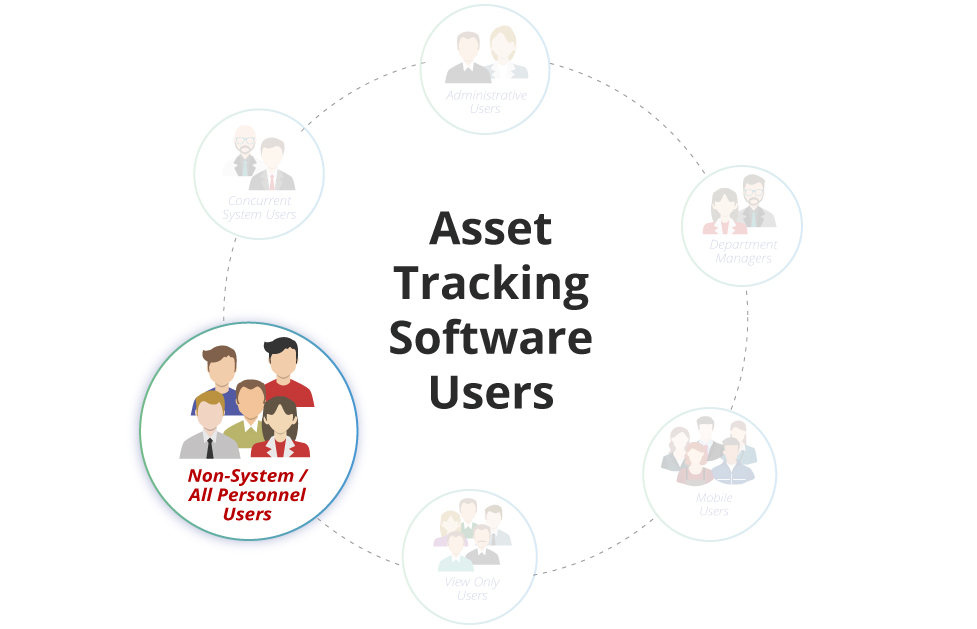 Non-Systems Users are characterized by people within the organization who do not use our system on a weekly basis.  These users have access to manage assets assigned to them, but cannot perform any asset transactions.  If these users need to request maintenance for their assets, we provide a user-friendly interface to manage these requests. 
The Abilities and Functions of Non-System Users
Request and manage his/her own Assets 

Request items to be checked out with a due date to be returned 

Request and identify maintenance in need to be performed on those Assets

Request Asset Disposal for his/her own Assets that have reached end of life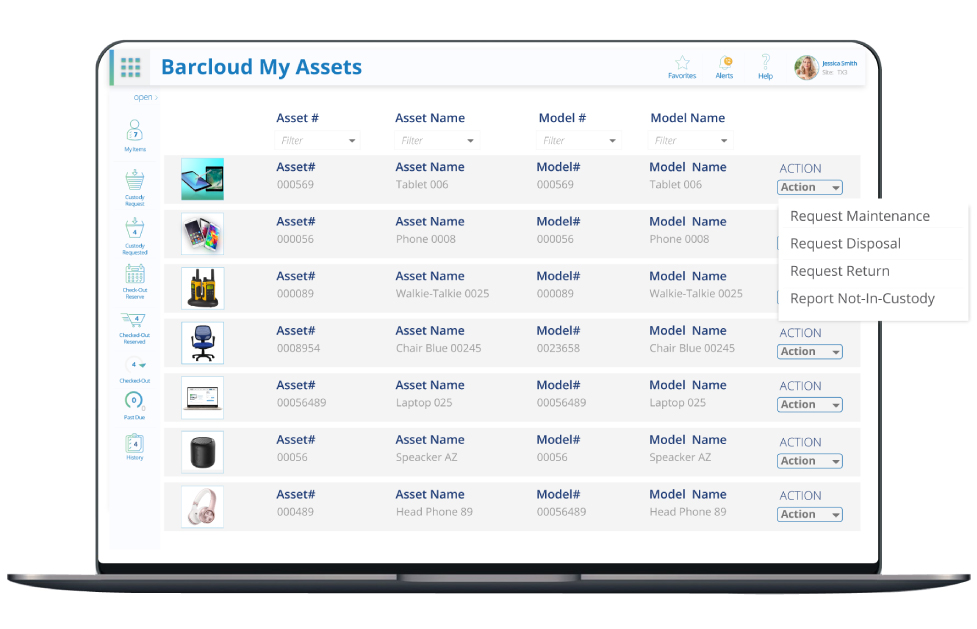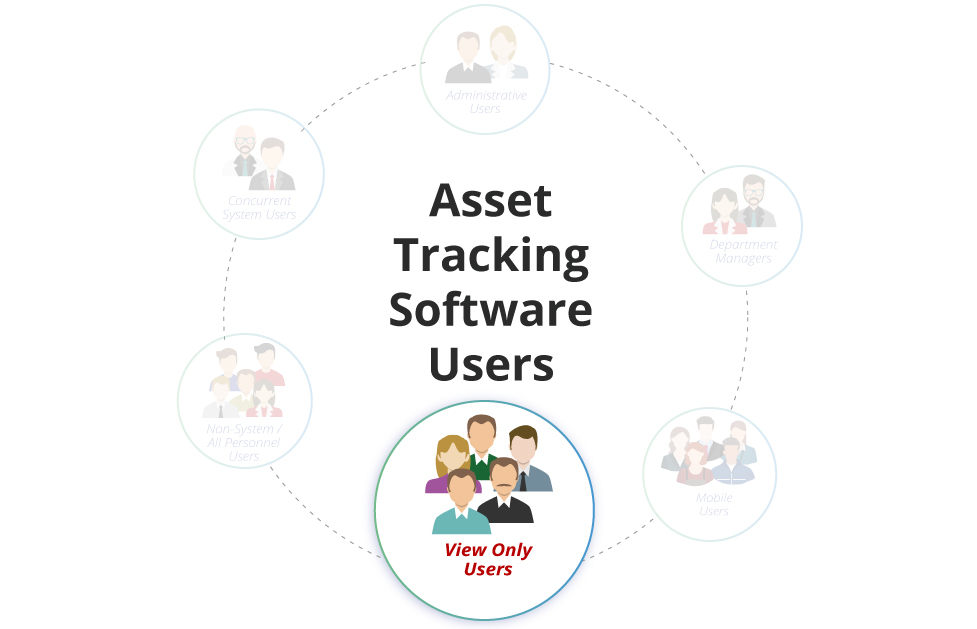 View Only Users have the ability to login and view information related to Assets and historical transactions. They can also view their assigned assets and view assets that are available for checkout.  But, these users will not be able to make any changes in the System.
The Abilities and Functions of View Only Users
View Only Users: they can view Asset-focused Reports, view information about Assets on hand, view Historical data, and view the Libraries 
View Only Requestors: they can view their assigned Assets via the My Assets page and can view Assets available for checkout