Textile Inventory System
Textile manufacturers and handlers need system tracking for both inventory levels and assets. They use our Inventory System Software and Material Asset Tracking to track complex variables pertaining to textile rolls and spools. Our Barcode Software makes daily tasks in the textile industry simple and straightforward. It can handle data entry, collection, and roll length/weight monitoring in an automated and systematic operation.
Material Management Features
Adopting our system will equip textile industry leaders with these powerful features:
Supports and allows Same Stock Number at Multiple Locations
Many members of the textile industry will maintain multiple work sites as part of their business processes. Larger companies may even use multiple warehouses for maintaining different types of stock. Our system is a perfect fit for these companies as we can manage multiple locations through a single standalone system.
Receive using Purchase Orders and issue against Sales Orders
These can be compiled into comprehensive financial reports. These allow any member of the textile industry to stay on top of their finances. Users can also use these for future projects when they need to provide estimated costs to their clients.
Set Up Reorder by Quantity within the system
Users can set up minimum and maximum values of inventory using our system. These can ensure textile companies have the supplies they need to keep up with customer demand. They also help save money by preventing overstocking. When inventory is low, our system will notify users as well as automate the process of reordering.
Conduct Physical Inventory Counts within the system
Counting inventories can be an enormous chore. Our system can automate the process and ensure that all work sites have smooth and consistent cycle counting. This frees up time and resources that would otherwise be spent on a tedious task.
Create and Configure Barcode Labels and Catalogs
Every aspect of our system can be configured to meet your exact needs. This includes our system's ability to create and configure all manner of barcodes. Our system's mobile scanners can also empower textile business owners to create and configure barcode labels from any location.
Create Inventory Lists, Bill Of Materials (BOM), and Pick Lists
Our system goes beyond simply tracking stock levels. Users can organize inventory from within our system to create important documents for their businesses.
Comprehensive lists for the Textile Industry
Users can create inventory lists consisting of both raw materials and finished products. They can also sort items by unit of measurement. Not only is this important for accurate inventory records. It can greatly streamline processes needed to manufacture a product
Creating Bill Of Materials (BOM)
Bills of materials (BOM) are vital to to both manufacturing processes. Our system is fully capable of creating all types of boms. These include but are not limited to:
Engineering bill of materials are vital to people that work in engineering and computer design.
Manufacturing bill of materials may simply be called manufacturing bom. These provide a comprehensive recipe of individual parts needed for a product structure.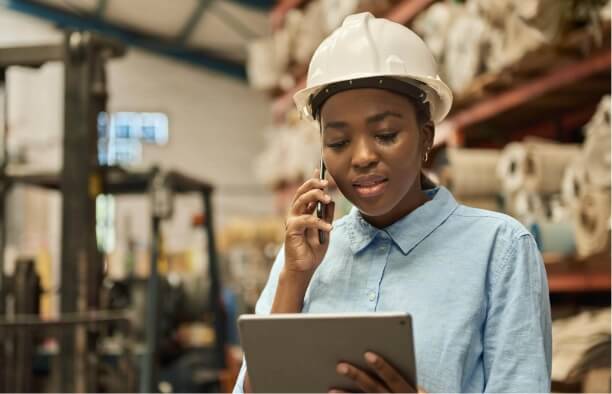 Reduce Partial Rolls and Wasted Textiles
You can manage and label individual rolls by location, manufacturer, and unique roll ID numbers generated by your system. This ensures that the correct rolls are being consumed without wasting materials or labor hours.