Enterprise Inventory Management Software
Our Inventory System for Enterprises is aimed at empowering large organizations and businesses with the best inventory tracking solution. We provide large entities the capacity to synchronize an unlimited number of Systems into one central database. This is all made possible through our API.
This powerful inventory management tool gathers and synchronizes Enterprise Inventory data in real time. This systemic data can be managed by Inventory System Users with high-level access. This gives large companies the ability to upload sales orders and purchase orders into an easy-to-digest and comprehensive dashboard.
The Benefits of The Enterprise Inventory System
Our inventory management software's ability to act as a standalone system provides significant benefits to large companies. Real time inventory data from each system in a consolidated view gives business leaders keen insight and comprehensive visibility over the entire organization. This is particularly important when engaged in enterprise resource planning. The users in your organization, whether that is staff members or contractors, can avoid having to monitor and log inventory items manually. Not only can these methods prove time consuming, they are especially prone to human error.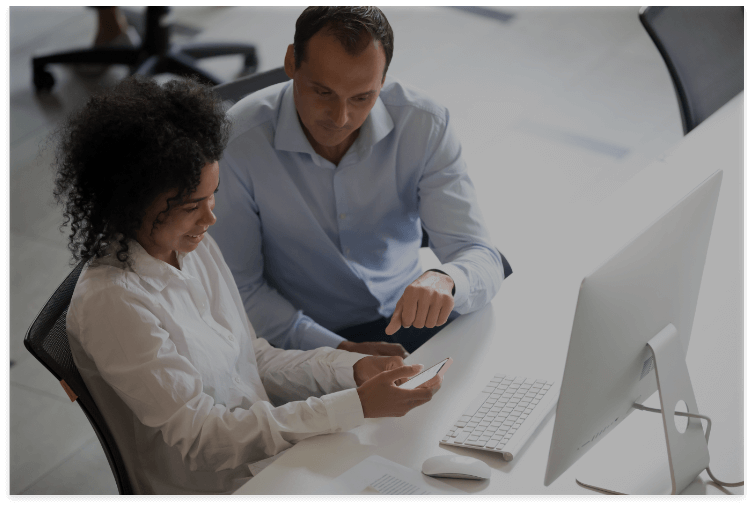 Managing Enterprise Inventory - Video
Watch to discover how our Enterprise Barcode Software offers unrivaled visibility to large corporations. System administrators are able to collect usage data from an unlimited number of Standalone Systems. They are then able to synchronize them into one location and in real time. This allows our inventory management system to provide invaluable data.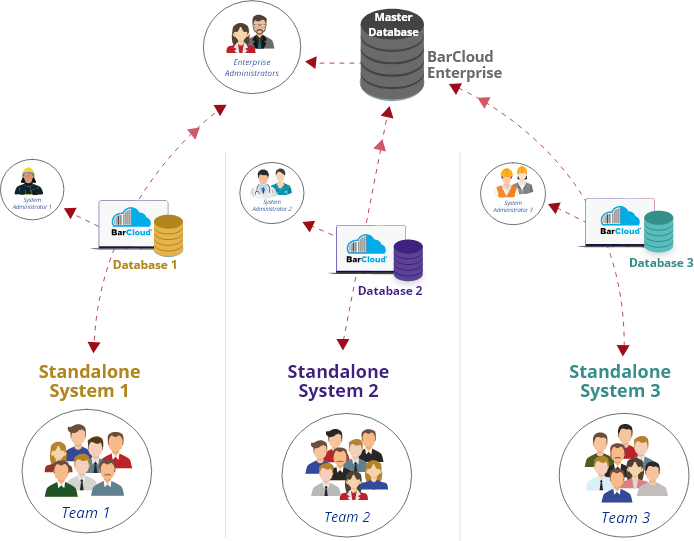 Manage Multiple Standalone Systems
Enterprise License Users will have to follow the below steps to manage multiple Standalone Systems:
Step 1: Create new Inventory related data at the Enterprise level
Step 2: Select the desired Systems to receive the data
Step 3: Push down the data to the selected System
Our Enterprise Inventory Management Software is designed from the ground up to meet all industries wide-ranging tracking requirements, such as:
Large Business Corporations
Large corporations with multiple branches around the world can synchronize Inventory data into one master database for maximum inventory control. Our system can help large businesses achieve their industry's best practices for managing perpetual inventory.
Military Installations
Global Military installations with multiple bases can have independent user accounts and Inventory data synchronized into one System account.
Education Districts
Education Districts operating multiple educational institutions can run global Inventory reports on inventory levels.
Local/Federal Government
Governmental Inventory Standalone Systems can be synchronized to be accessible only through the Enterprise Inventory System. They are unable to access each other.
Manufacturing Entities
Large-scale manufacturing entities dealing with multiple Standalone Systems can have full access to each System of their own volition.
Franchises
Franchise owners can easily transfer Inventory from one independent franchisee warehouse to another. This makes for both easy order management and maintaining of stock levels as well as finished goods.
The Enterprise Inventory License
Unlimited Reports
Unlimited Standalone Connections
Artificial Intelligence/ Forecasting
Unlimited Custom Fields
Unlimited Security Groups
Unrestricted Access to Standalone Systems
Numerous Inventory Enterprise Features
Enterprise Accounts
Collect and synchronize data from unlimited independent Systems into one.
Enterprise Users
Create an unlimited number of Users, of all types, at the Enterprise level and at the Standalone level.
Enterprise Transfer
Initiate Inventory Transfer requests between Standalone Systems and Locations.
History /Reports
Create global reports from the synchronized data.
Enterprise Import
Import selected Inventory data to the synchronized Inventory data and push it down to the desired Standalone System.
Custom Fields
Create custom fields and push them down to the desired accounts.
Most Powerful System!
"The Inventory Enterprise has simplified and enhanced our inventory tracking capabilities, all while seamlessly integrating into our complex environment."
Justin Shevelow, Manager at PICA Systems