How To Manage Your Inventory Through Our Inventory System's Mobile App
Our Inventory Tracking Mobile App revolutionizes inventory management by offering an intuitive interface designed to enhance user experience and streamline operations. With its user-friendly design, our app helps users to effortlessly perform everyday inventory transactions and tasks. Whether it's checking stock levels, updating quantities, or managing supplies, our mobile app streamlines the process, saving you valuable time and effort.
By combining the power of your mobile device and our software, we make Barcode Inventory Tracking easy. With our Inventory System Mobile App, you get an intuitive interface that you can conveniently and effortlessly perform daily inventory transactions and tasks on. Compatible with iOS and Android, you can now easily manage barcoded stock, supplies, and consumable inventory. Whether you are a small business owner or a warehouse manager, our app provides the tools you need to efficiently manage your inventory.
Our Inventory System's Mobile App Works on 3 Devices
Barcode Scanners
Barcode Scanners
Smartphones
Tablets
Barcode Scanners
Our point-and-shoot barcode scanner app is designed to help users save precious time. By simply pointing your device's camera at a barcode, you can quickly and effortlessly retrieve inventory data. This helps you save time on manual tasks like typing serial numbers and avoid struggling with inaccurate scanning. Our app streamlines the process, helping users swiftly auto-populate data just by scanning the barcode on your item.
Smartphones
With the availability of our App on both iOS and Android platforms, your team will be able to conveniently download our app on their smartphones. You and your team will be able to stay connected to their inventory and effortlessly manage inventory data from any location, unrestricted by time or place. Whether they are on the go, onsite, or even within your own facility, you can access the App and seamlessly handle inventory-related tasks.
Tablets
Our Mobile App is compatible with various tablets, offering users an enhanced perspective on their inventory levels. By leveraging the larger screen size of tablets, you will be able to easily navigate inventory data, visualize stock levels, and make informed decisions with greater clarity.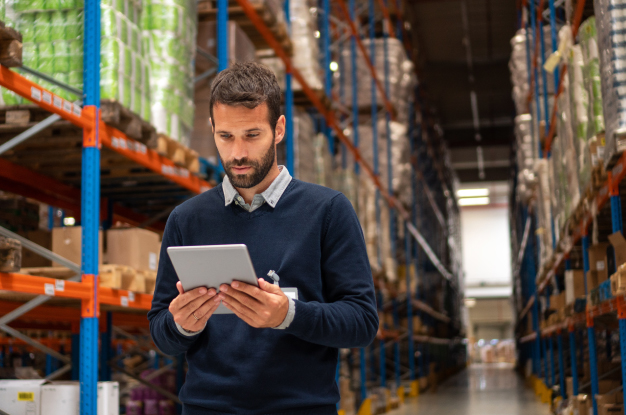 How Our Configurable Inventory System Can Work Through Mobile Devices
All of our features are accessible directly from your devices with our mobile app. This means that users will no longer need to purchase additional hardware. They will download the App on their IOS and Android smartphones or tablets to easily manage and collect inventory data from anywhere with the point-and-shoot barcode scanner feature within the app.
The best part is that all of the inventory data and transactions conducted through the mobile app can sync directly to the Web Application in real-time, ensuring that you have seamless integration and up-to-date information across all platforms.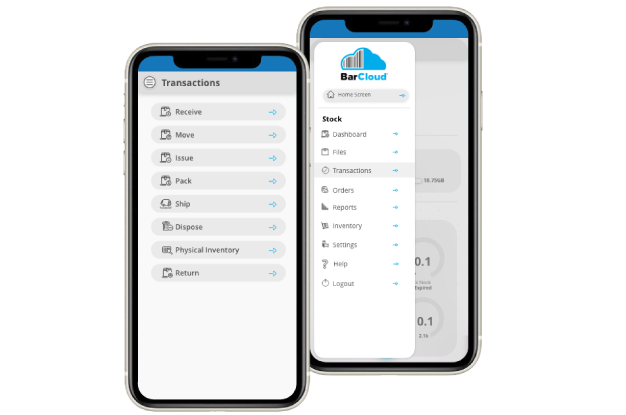 What Inventory Mobile App Features Do We Offer?
Our Mobile App gives you access to all our inventory tracking features wherever you may be. Whether you are inside the warehouse, at your desk, or working remotely, it's easy to stay connected to our Inventory System while performing inventory transactions including:
Receive, Move, Issue, Dispose
Pack and Ship
Physical Inventory
Signature Capture
Reporting and Analytics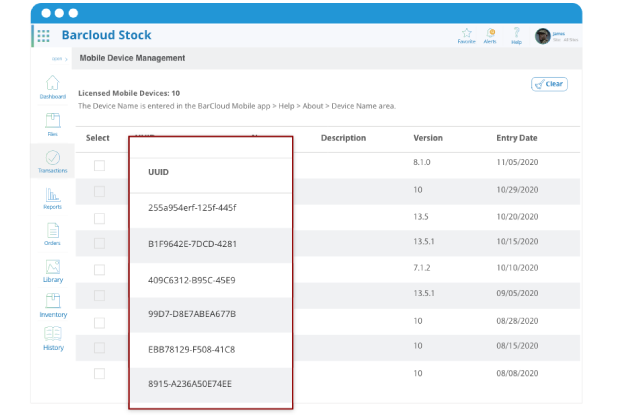 How To Easily Manage Multiple Mobile Devices
As a system administrator overseeing your warehouse or site, you will have the power to effortlessly manage access to specific features for different users and devices. With our system, you can easily configure permissions to restrict or grant access based on your preferences.
If a user only needs access to only one specific transaction, our flexible configuration options allow you to set up the system accordingly. Take control of user access and tailor the system to meet your precise requirements with ease.
What are The Advantages of Using our System's Inventory Mobile App?
Live Scanning /Real Time Scanning
With our mobile app, users will be able to perform Inventory transactions in real time. This means that the second you scan an item, it will directly sync over to the web application.
BYOD (Bring Your Own Device)
Employee-owned mobile devices or tablets can be used for inventory tracking purposes with our inventory Mobile App and you will no longer need to purchase hardware.
Boost Productivity
To boost productivity and efficiency of the Inventory Tracking processes, users can collect Inventory data from anywhere!
Offline Mode
Our Inventory Mobile app will enable users to continue managing inventory even in remote locations or with no internet connection.
Inventory Analytics
Our Inventory Mobile App provides easy to read charts and graphs to help you visualize inventory items, expiring inventory, low inventory, and stock items by quantity.
File Management & Search
Our Inventory Mobile App enables users to easily search for and view Inventory data from any mobile device.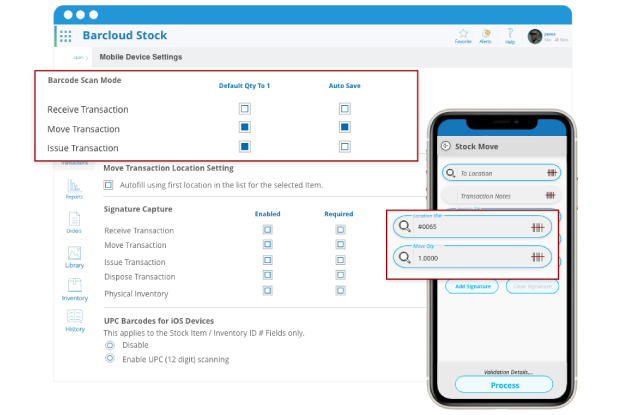 How To Use Barcode Scan Mode
With Barcode Scan Mode, users with the Mobile App can receive, move, and issue inventory with a default quantity of one and have the app auto save after scanning. Users can enable Barcode Scan Mode by going to 'System Configuration' then 'Mobile Device Management' on their desktop.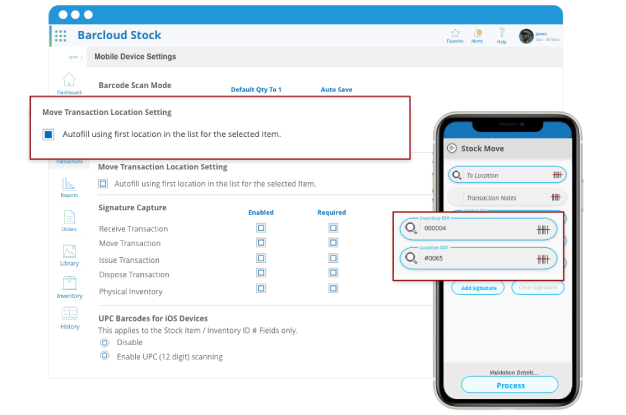 Move / Issue Transaction Location Settings
In the settings of our Mobile App, you can set default locations that you want to auto populate within the Move or Issue Transaction. Now when you are moving items to and from the same locations, the system will auto populate them for you.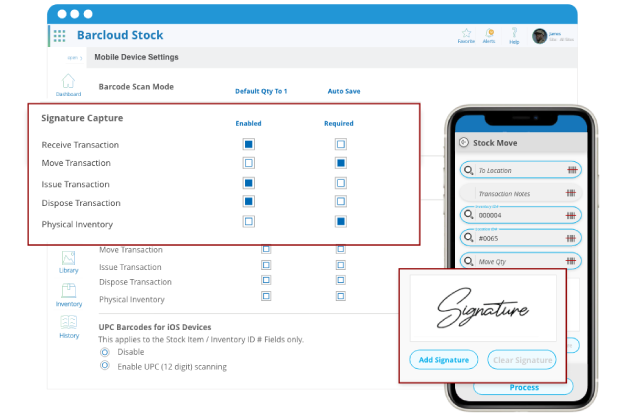 What is The Importance of Signature Capture?
The Signature Capture feature of our Mobile App enhances the security and accountability of the inventory management process. By incorporating a requirement for users to provide their signature when performing transactions, this ensures a higher level of traceability and responsibility.
Signature capture provides a valuable means of identification. If there are errors or missing inventory, this feature helps you trace it back to the exact user who signed off on the transactions. This feature enables a more reliable system and improves the resolution of issues while facilitating a culture of accountability among your users.
Latest Updates to Our Mobile Application
Our Inventory Management Mobile App is constantly updated to provide our customers with the latest innovative features. Here are some of the upgrades we've made:
Uninterrupted Workflows
With our latest update to the mobile app, you can streamline operations and effectively manage your inventory items with seamless processes. Our mobile app now features uninterrupted workflows, providing users with a smoother and simplified experience when conducting transactions. This means that users will no longer have to exit out of a transaction in progress just to add new inventory items into the system.
Printing Barcodes
Barcode printing has never been easier with our mobile app. Our latest update integrated a game-changing feature that you can use to export barcodes directly into PDF format. This makes printing barcodes easier and more convenient than ever before. Whether you are constantly on the move, working in a warehouse onsite, or in a remote location, our mobile app ensures that you can generate and print barcodes whenever needed.
Export Reports & Analytics
Experience a new way to view reports and analytics through our mobile app's latest update. The reports from our desktop system have been revamped, providing a simplified and user-friendly interface right in our app. You have complete control over the reports in our app, meaning that you can easily select the columns you need and refine the results as needed. These insights can then be exported as Excel or PDF files. This makes it easy to print reports right from your mobile device.
Single Sign-On (SSO)
When it comes to logging into our system across different devices, we wanted to provide convenience and security. That's why we implemented SAML Security into our mobile app, providing users with the benefits of Single Sign-On (SSO). This means that you and your employees will now have a streamlined login process. Your users can access the system without having to create separate credentials. This ensures a seamless and efficient authentication process.
New Vision of Inventory Management System Mobile App
This video will explore the future of BarCloud with the launch of our new mobile app for Inventory Tracking. Check out the video above to learn more about the enhancements we worked on and how we'll make barcode inventory management and asset tracking easier than ever!