Asset Tracking Notes and Flags Feature
Our Asset Tracking Systems's Notes and Flagging Feature offers users the ability to Flag important asset line items. It allows collaborative input and time-stamped notes for important functions such as asset maintenance, purchase orders, and sales orders. Grids can be sorted to view flagged items at the top, increasing visibility, and efficiency.
Watch & Learn
Learn how our Asset Tracking Sytems's Flag and Notes feature works and the increased visibility and communication benefits it can provide.
Increased Visibility, Collaboration, and Organization With Flags & Notes
Administrator Security Level
Security is not compromised with the Note tool; administrators can handpick who is able to edit or add collaborative notes in the System's Security Level Feature.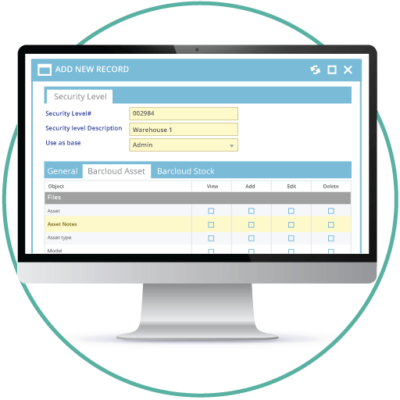 The Asset Tracking Flag and Note Popular Features
Identify critical assets by flagging them for better visibility and access. In addition, our enhanced Notes feature creates a chronological timeline of notes by providing users with a history of each note logged, the creator, and date.
Favorite relevant asset line items in the asset file screen to increase visibility. Flagging asset line items is as easy as simply checking a box. Lists can be sorted to view flagged relevant items at the top, increasing visibility, and efficiency.
Notes can be added on many files in the robust system, including location, asset purchase orders, scheduled maintenance records, and perform maintenance for assets.
Mistakes can be minimized with the edit tool for Notes, allowing users to revisit previously inputted collaborative notes and make any necessary corrections.
Ready to make your life easier? Give us a try!