Asset Tracking Reporting Feature
A Complete Asset Tracking Solution, highly configurable to meet your organizational needs.
Asset Tracking Reports
Configurable Asset Tracking Reports are at your fingertips! Our best in class Asset Tracking System offers the ability to deliver real-time asset data reports with the information that matters most to you.
Asset Tracking Reporting Advantages
Scheduled Reporting
Set configurable delivery schedules for Asset Tracking Reports
Configurable Reporting
Asset Tracking Reports configured with criteria that matter most
Real-Time Reporting
Automatically generate reports hourly, daily, weekly, monthly, and yearly
Easy to Use
Simply select, edit, and schedule reports for tracking assets and categories such as check out history, locations, and more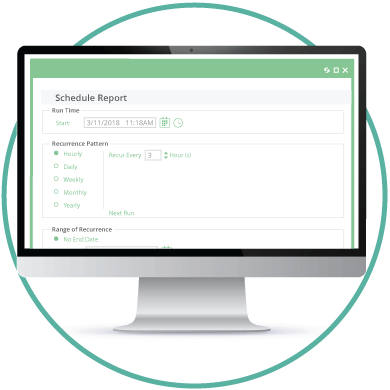 Rely on Well-Timed Asset Tracking Insights
With Our Asset Tracking Reporting feature, you can create reports based on your specific reporting criteria, and have them automatically delivered on a schedule you designate. Configure reports for different business units, giving everyone access to the data relevant to their team when they need it.
Asset Tracking Drilldown Report and Data
Drilldowns apply to all types of reporting, whether it is asset depreciation, dispose history, expiration dates issue history reports, and more. With the addition of the Drilldown reporting feature, users have access to basic information or list of options for what they have requested to report. Once a particular item is selected, a second page includes detailed information and data about the asset and a breakdown of its depreciation history appears.
Drilldown Reporting in Asset Depreciation
To better understand the function of the Drilldown Report Feature, view our Charted Depreciation History report. Clicking on the report explains the book values for all the depreciated items in their system. The charted depreciation history is exhibited in the form of a line graph, with a list of asset numbers, their names, last depreciation date, book value, and cost.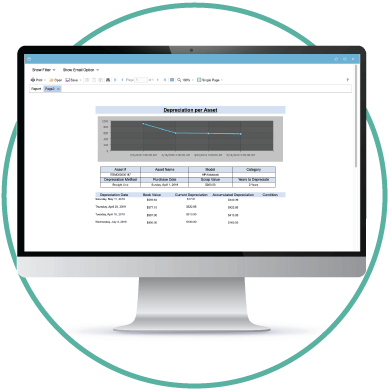 Learn More About our Asset Tracking Drilldown Reports
Asset Tracking Drilldown data provide users with a quick and easy way to visualize the depreciation of their assets. You can also select assets individually to drill down the data and check its depreciation. Watch and learn about our Drilldown Report Feature on Asset Depreciation powered by charted graphs.
It's Time to Upgrade to a Complete Asset Tracking System