The Best All-In-One Inventory Management and Asset Tracking Solution
For companies who need to manage both inventory and assets, finding a system can be difficult. Most companies only offer solutions for either Inventory Management or Asset Tracking, rather than both. Even if a company offers solutions for both, you would still need to use two distinct systems. Our solution is the only one in the industry that combines inventory and asset tracking.
You can manage assets and inventory simultaneously with our All-In-One Inventory System and Asset Management Solution. All you have to do is log in to the system. Once you're in, you can effortlessly switch back and forth between managing inventory or assets. Our system is fully configurable and scalable, so truly any organization can use it to meet their needs.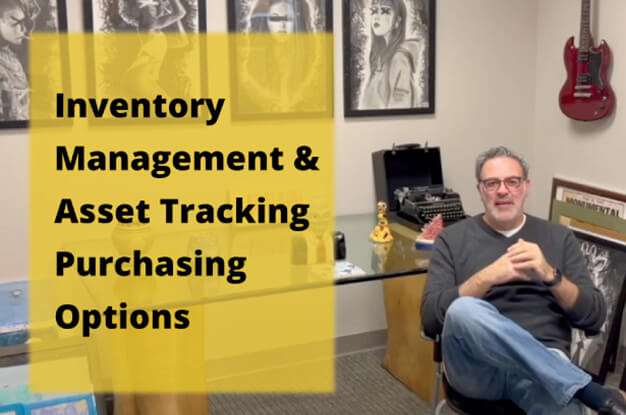 Inventory Management and Asset Tracking Options
We provide you with an inventory management system, asset management system, and an All-In-One solution. We also have web based, cloud based and on premise hosting options. Our system works for small businesses, medium size businesses and even Large corporations.
In this video, you will learn about all the options available to you when purchasing a Barcode inventory system and Asset tracking solution. You can manage multiple sites at one time or even combine multiple systems into one database for large organizations.
Benefits of Combining an Inventory Tracking Software and an Asset Tracking System
Single
Login
Give selected credentials access to both systems as well as Single Sign-On (SSO) integrations with Google Workspace, Office 365 and many more.
Share Common Information
Data relevant to inventory and assets can be shared across both systems, including Users, Vendors, Addresses, Location and Categories.
Inventory Requestor Feature
Any enterprise can designate anyone, to shop available inventory from within the enterprise's warehouses while keeping secure with comprehensive approval cycles.
My Work
Assets
An enterprise can appoint anyone to manage its assets, including but not limited to employees or managers.
Manage 2
systems in 1
Save time by not having to swap between systems
Easier Access to Information
Access all your information from one place
Reclassify Inventory as Assets
Change items from inventory to assets with ease
Implement our Wide Range of Features
Take advantage of our one of a kind features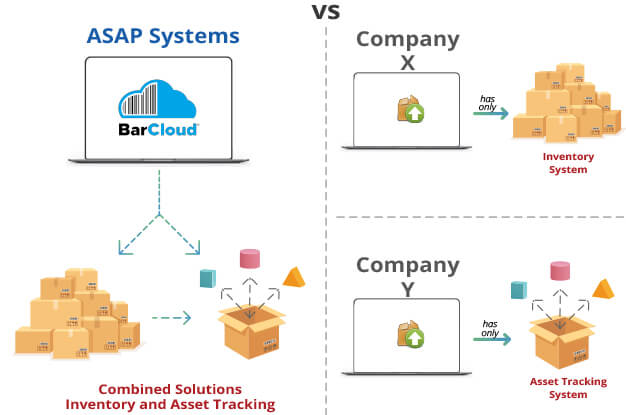 Take advantage of our one of a kind features
If you use two different systems for inventory tracking and asset management, it can be tricky to transfer item information between them. Even if both systems are from the same provider. The All-in-One Solution has a Stock to Asset feature that makes it easy to reclassify inventory items to fixed assets.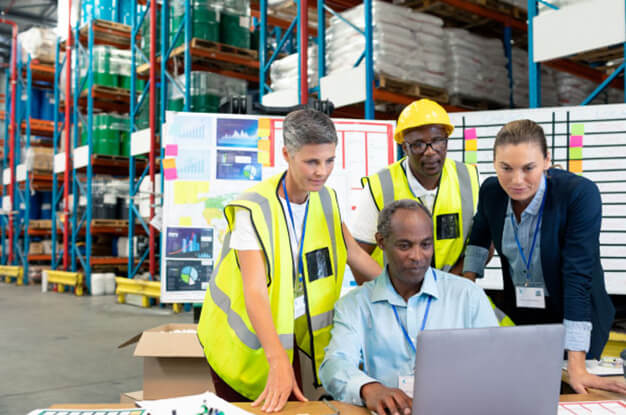 Different Functionalities for Different Users
Viewing Grids / Analytics / Reports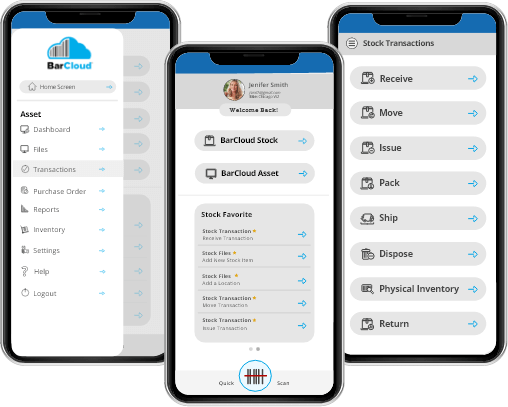 Inventory and Asset Tracking Software Mobile App
Keep track of asset and inventory data in real time by using our mobile app to conduct transactions. Our mobile app works with any ios or android mobile devices that have a back camera. Users can:
Scan barcodes and QR codes with our app
Conduct normal day to day transactions
All of the physical asset and inventory data will be updated in real time to our system.