Servpro of St. George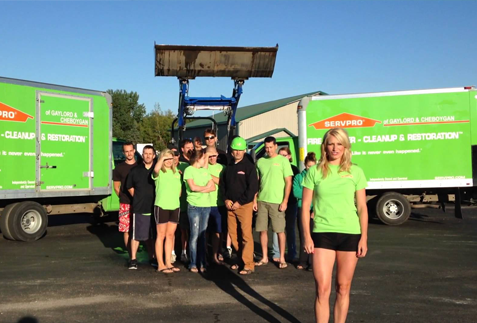 SUMMARY
The commercial and residential restoration industry requires the use of expensive, specialized equipment that is stored in SERVPRO® of ST. George's warehouse between jobs. When the team gets called for a restoration project that equipment needs to be quickly accounted for and ready–to–go at a moment's notice. In addition, once it's in the field, employees need to be able to do quick status checks to see which site the equipment is on, who has checked it out and when it's due back.
THE CHALLENGE
Prior to working with ASAP Systems, SERVPRO® of ST. George was tracking all of its warehouse assets and inventory as well as job site consumables and expendables manually. This included chemicals, rubber gloves, PPE (personal protective equipment) suits and high value assets like air movers, dehumidifiers and steamers.
With manual tracking, the company was experiencing productivity losses due to the amount of time employees were spending on manually entering asset and inventory information, the high incidence of human error in entering data and the difficulty employees were having in analyzing and reporting on data — and then sharing it with management.
"We were losing equipment when we went from job site to job site," said Darger. "In fact, we found equipment at a job site that we hadn't been to for over a year."
THE SOLUTION
SERVPRO® turned to ASAP systems to help the company automate their inventory management and Asset Tracking. The company's main focus was to implement a solution that would be more efficient and accurate, allowing employees to:
Track the SERVPRO® tools and equipment that are moved to and from job sites.
Track contents during "Pack Outs"
Track and report on under-stocks overstocks and lost equipment
Easily share and report on asset and inventory levels
heck the real-time status equipment here it is located as well as specific details on what equipment is being used on a particular job site
Track and report on consumables and expendables that are being used on specific job sites, allowing the company to properly invoice clients
Control of Warehouse Assets and Inventory
ASAP Systems helped SERVPRO® of ST. George create a baseline of consumption for the company's warehouse inventory levels that could be used to alert employees of highs and lows in inventory. Today, when inventory levels go under or over that baseline, ASAP Systems' Inventory System and Asset Tracking solution sends an automatic notification to the SERVPRO® team.
Having a real–time view of assets and inventory allows management to plan, forecast and order more efficiently.
Additionally, inventory that is used on specific job sites is efficiently tracked and reported on, enabling management to invoice clients appropriately for expendables and consumables used on a particular project.
Visibility Over All Inventory Locations
The equipment that SERVPRO® of ST. George uses on its work sites is very specialized, ranging from $1,200 to $6,000 per piece. With our Inventory System Asset Tracking solution, the company's most valuable assets are now tracked by location — be it at a warehouse location or a specific job site.
SERVPRO® of ST. George uses durable barcodes on all of its assets so that employees can quickly and accurately capture the assets' data with a Motorola barcode scanner. That data is then synced to our Asset Tracking solution. The SERVPRO® team has full knowledge of where an asset is currently located and how long it has been there. In addition, the team can quickly do regular physical inventories of the equipment, giving the company a clear understanding of its asset and inventory levels at any point in time.
Before implementing our Asset Tracking solution assets were physically inventoried just once a year, requiring two people and hours of manpower. Now employees check on assets weekly and generate a report in minutes.
Conclusion
By automating their inventory management and asset tracking with ASAP systems using barcode technology, SERVPRO® of ST. George has drastically reduced employee error, made their team more efficient, cut down on lost equipment and increased accountability for consumables and expendables used on job sites. This ultimately means cost savings for the company and has given them an immediate return on their investment