Windy City Equipment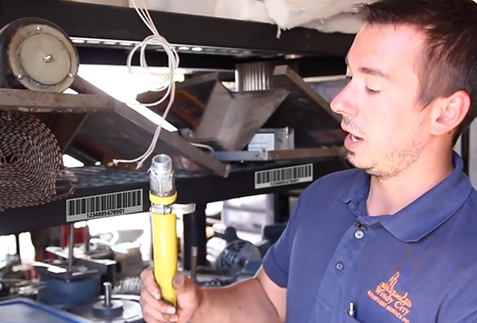 SUMMARY
Founded in 2003, Windy City Equipment Service, Inc. has grown from a one-man operation servicing a few customers to a large-scale provider of commercial kitchen equipment parts and repair services. With a growing customer base and an increase in total inventory on-hand, the organization needed to find a barcode inventory system that could scale to their growth.
THE CHALLENGE
Keeping Up with Company Growth "We have not taken inventory in the ten years we've been in operation so we needed a system that would allow us to start from scratch and would be easy to implement," says Josh Zolin, Vice President of Windy City Equipment.
As a company, Windy City Equipment had entered a stage of maturity that compelled them to advance their inventory operations. They needed to track about 20,000 commercial kitchen equipment parts that were being stored at a new warehouse facility, sent out with service technicians, and then distributed around the country. Without a system in place, management kept forgetting what parts were stored in the warehouse, how many were stored, and the names of the manufacturers. This lack of organization and accountability continuously impeded the productivity of their operations and hurt them financially.
Mobile Inventory Management:
The challenges were particularly taxing on the service team comprised of five technicians who drive service trucks to scheduled appointment locations throughout Arizona to perform preventative maintenance, equipment installation, and emergency repair. These technicians need to be well equipped in order to execute services properly. In the absence of a smartphone-compatible system, management had to guess the quantity of available parts and the team wasted valuable time searching for the parts they needed in an unorganized warehouse facility. In addition, the lack of accurate recordkeeping could have led to costly inventory stockouts or overstocks.
FITTING THEIR NEEDS
The team realized that finding the right barcode-based inventory tracking software would be a necessary challenge. One of the most important functionalities the team required was for a system to incorporate the use of smartphones or mobile barcode devices. The service technicians needed the ability to track and search for specific parts from the field and in the office.
While on-site with a customer, technicians diagnose equipment problems, assess the value of the equipment and repair costs, and provide an expert opinion on the best course of action. Technicians would often contact coworkers at the warehouse to check stock levels and prices of parts because they had no access to this sort of information away from headquarters. Thus, the company needed an inventory tracking system with mobile capabilities to put this data in the palm of their hands while out in the field.
IMPLEMENTATION
After initial online training, Windy City Equipment began implementing ASAP Systems' Inventory System and taking advantage of several easy-to-use features. The team started by quantifying the thousands of parts in their warehouse, identifying the manufacturers of parts, and generating lists in Excel to import into the secure database. Since the company had never used an inventory system before, it was necessary to tag all inventory items with barcodes and put new inventory operational procedures in motion.
"Employees were excited to use the new system. The learning curve was relatively small and the field techs couldn't wait to see what the system was capable of," says Zolin.
THE SOLUTION
Inventory Tracking Software for Smartphones. By letting ASAP Systems host their database, Windy City Equipment received the ability to manage their inventory using the smartphone devices they already owned without having to buy additional scanning hardware. The Inventory System app allowed them to scan and track all equipment parts being received, moved, or issued out from the warehouse or off-site. The data captured from every transaction could then be compiled so it could be organized as the team saw fit. Also, data fields could be named however made the most sense to the staff. This way, all employees could navigate the system fluently without being overwhelmed by unnecessary functions or being confused by terminology.
Zolin and his team could attach an image as well as cost, location, and descriptive information to each inventory item straight from their smartphones. With these capabilities available to them, the service technicians greatly enhanced the quality of their customer service. They could immediately answer customer questions relating to equipment part counts, pricing, availability, and item specifications without delays or having to consult management.
Additionally, the email and sms text alert feature gave Zolin the ability to automatically send messages to service technicians when certain inventory transactions take place, such as a low inventory level for a part or when a purchase order has been created.
"The mobile functionality will save us time by giving our technicians the ability to know what we have on hand, how much it costs, how much we sell it for, and where everything is straight from their smartphones," says Zolin.
LOOKING TO THE FUTURE
Our Inventory System's inherent capacity to adapt to customers' changing business environments will prove beneficial for Windy City Equipment throughout their relationship with ASAP Systems. As the organization takes on new clients, adds employees and expands their inventory volume, the Inventory System will allow them to configure facets of their system such as advanced features, reporting criteria, data analytics, and more. Furthermore, the company can rely on ASAP Systems, a group of industry experts, for guidance when taking on new challenges.
Eventually, when the need for tracking assets emerges, Zolin and his team know they can integrate our assets tracking system to work in combination with the stock inventory system they have in place. All service vehicles and work tools can be tracked when they are checked out to service technicians from headquarters or loaned out to partnered companies. In doing so, large amounts of assets can be managed and accounted for without the hassle of manual processes like filling out log sheets.