Streamline the Receive Inventory Process
At first glance, receiving inventory may seem like a simple process. It's understandable to think that the main challenge is simply finding the right location to place stock once it's been received. As a result, its importance can often go without appreciation. In practice, however, receiving inventory is one of the most important and impactful parts of warehouse operations. When it's done right, it ensures any warehouse can operate smoothly. When it goes wrong, it can affect entire supply chains and all aspects of item fulfillment.
That's why we're here to help. Our Barcode Inventory System for warehouses enables organizations to streamline their daily inventory receive process. With this feature, users can receive 5 different types of inventory and choose the location for each item effortlessly. Join us as we show you how our Warehouse Inventory System can help you grow your business while keeping operation costs low.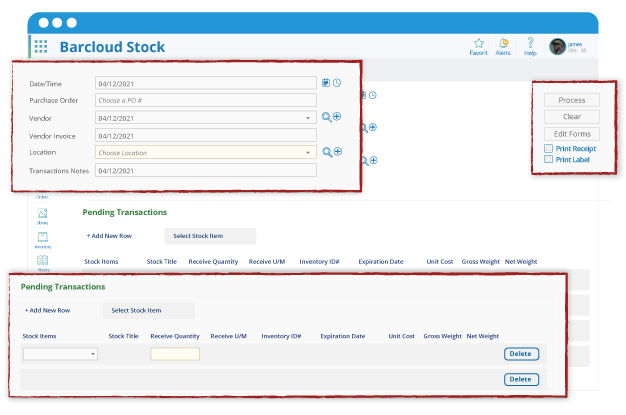 1
2
3
How To Receive Inventory Through A Web Browser
1The required Location field will show you where the items are being received in to. Purchase Order can be used to track what you are receiving from a specific order and what is on backorder. Vendor is used to track the specific vendor the items came from. Vendor Invoice # shows you the invoice number from the vendor. Transaction Notes allow you to add any additional information.
2Here you can select the stock items that are going to be received into the system and their stock #. You then can enter the quantity to receive the items, the Lot #/Serial # (Inventory ID #), expiration date, and other fields of information specific to each inventory ID # if needed
3The action buttons will include several functions: Process will process the transaction, Clear will clear the transaction out so users can start from scratch, Edit Form will allow users to modify whether certain fields are visible or not, and The Print Receipt option will allow users to print a receipt as soon as the transaction is processed.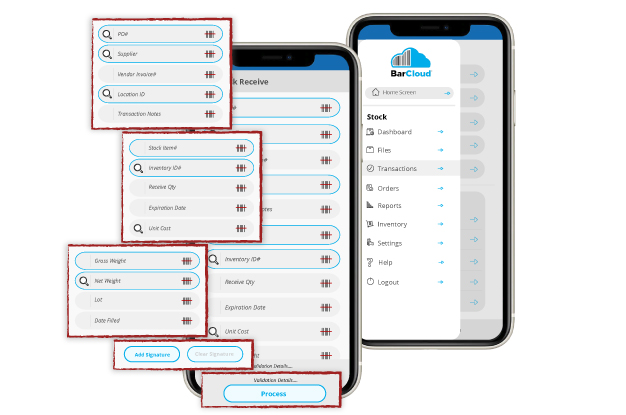 1
2
3
4
5
How To Receive Warehouse Inventory Through The Mobile App
Our Warehouse Inventory Tracking Software also has a mobile app, making it more convenient for your employees to access the system! There are numerous fields for all your inventory management needs and the required fields are outlined in blue.
1Header Fields in the Mobile App are designed to loop as you scan more items. These include the required Location ID field and optional fields like PO #, Supplier, Vendor Invoice # and Transaction Notes.
2Any field on the mobile app can be scanned into (via the barcode icon on the right) or typed into directly. Fields with a magnifying glass also have a lookup to search for items. In this case the transaction includes Stock Item # and Receive Quantity for Standard Items. For items that need a bit more specific information there are also additional Inventory ID number and expiration date fields that can be added.
3In addition to the typical fields that can be managed in the system, there are also extra fields that be added for inventory tracking when you add the Inventory ID field. These fields can be used to manage a wide variety of text information or dates.
4Signature Capture is a feature that can be enabled on the mobile app for a transaction so users can sign the items when they are getting them.
5Validation Details will give information about the field that was most recently selected/scanned. If, for example, Inventory ID # was selected last the details would show the Inventory ID # at the bottom to confirm. Once all the data above is confirmed, the user can tap the process button and save the transaction. Users are more than welcome to scan another item to receive after the first is processed.
1
2
3
4
5
6
How To Edit Your Receive Admin Settings
You will be able to edit admin settings for your employees in the Receive Settings section of the Warehouse Inventory Management System:
1This option will give users the ability to receive a new item they have not already added into the inventory directly from the receive transaction. This would bypass the need to go to the Stock Item File section to do this manually but would sacrifice some control over how these files are made.
2This option will give users the ability to receive more than one of the same inventory ID numbers, which is not normally allowed. Keep in mind this option does come with some caveats.
3This option will give users the ability to enter extra information on the receive transaction when receiving items containing an Inventory ID #. This area will also allow these fields to be renamed to something else of the users choosing.
4Allows the system to automatically receive items into a default location entered on the Stock Item file. Users would need to enter a default location for every stock item for this option to work.
5Allows users to print a receipt directly from the receive transaction after clicking process on the web app.
6Allows the system to automatically use a specific template for labels that are printed with the receive transaction information.