A Guide to Moving Warehouse Inventory
Moving Warehouse Inventory requires visible real time data and careful planning. Like many other warehouse processes, doing it manually can leave your operations prone to human error. In order to prevent setbacks that could impact entire supply chains, warehouse owners and overseers must take utmost care in moving inventory. Automating the process of moving inventory from one warehouse to another means streamlining your inventory processing, all the way down to when you receive your inventory as well as moving them to your shelves and your aisles. You know where your inventory is all the time, inside and outside your warehouse using our barcode inventory system for warehouses. Here, we'll show you step by step how to automate the movement of stock between multiple locations within your warehouse using our Inventory Management Software.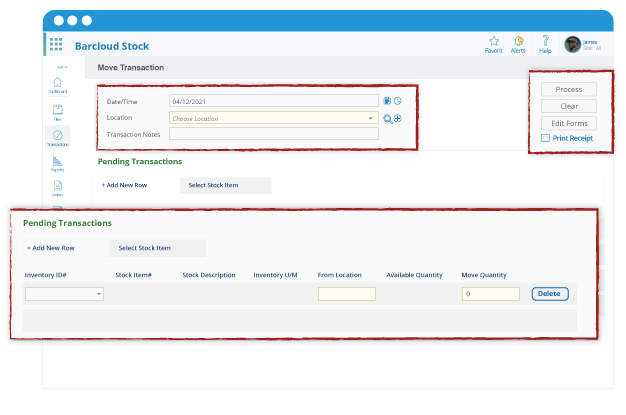 1
2
3
How to Move WMS Inventory Through A Web Browser
1The top section of the transaction is often referred to as the "Header Fields". These fields include which Location the item is being moved to and the option to include notes about the transaction that is being performed. The Date-Time stamp of the transaction is automatically filled in and recorded.
2The bottom section of the transaction will be where users select the stock items that are going to be moved along with the quantity being moved to the new location. Users with the Advanced Inventory option would need to select the Inventory ID # (Serial/Lot #) instead for the traceability. This section will also inform the user what Unit of Measure is in use for the selected items; make sure to enter the move quantity based on this Unit of Measure.
3The action buttons will include several functions: Process will process the transaction, Clear will clear the transaction out so users can start from scratch, Edit Form will allow users to modify whether certain fields are visible or not, and The Print Receipt option will allow users to print a receipt as soon as the transaction is processed.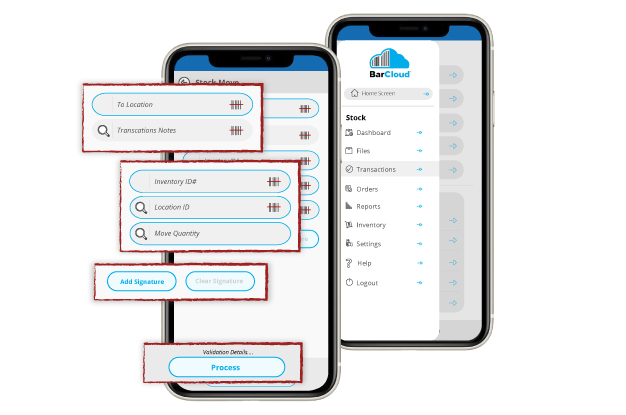 1
2
3
4
How to Move WMS Inventory Through the Mobile App
With our mobile app, the Inventory Management Software is now more accessible to your employees. Keep in mind that in the mobile app, any field outlined in blue is required.
1Header Fields in the Mobile App are designed to loop as you scan more items. With Move Transactions, the Location field and Transaction Notes field will stay the same as you start scanning and processing items.
2Signature Capture is a feature that can be enabled for a transaction so users can sign the items when they are getting them.
3Signature Capture is a feature that can be enabled for a transaction so users can sign the items when they are getting them.
4Validation Details will give information about the field that was most recently selected/scanned. For example, if the Inventory ID number was selected last the details would show the Inventory ID number at the bottom to confirm. Once all the data above is confirmed, the user can tap the process button, save the transaction and move on to the next one