Warehouse User Security Levels
It can be difficult to know where to start when establishing a secure warehouse management system for the first time. Managing a warehouse effectively requires administrators to handle information with varying levels of sensitivity. We placed that need at the forefront, and thus our system offers different levels of configurable security. Your Warehouse Inventory System administrators start off with five comprehensive security settings. Then, they can configure additional security options to the specific needs of your warehouse. This ensures that your most valuable information can only be accessed and handled by the right personnel. This ensures that our Warehouse Barcode Inventory system's security configurations always give you full control of your inventory and airtight security. Here, we'll walk you through what our system offers and how it can be tailored to meet your needs exactly.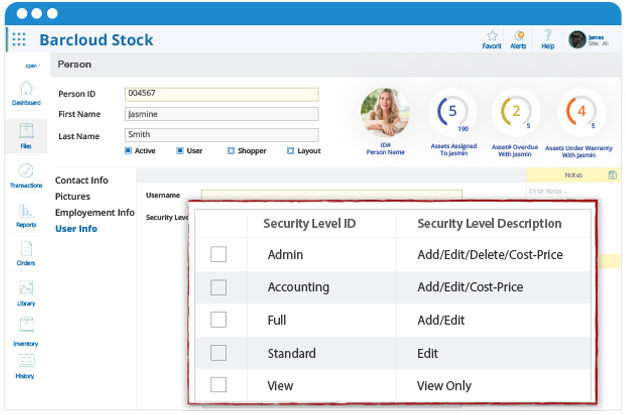 Default WMS Security Levels
Within the system, there are five main default security levels:
Admin – Able to do anything in the system
Accounting – Able to do almost everything an admin can do, except for deactivating information, system configuration, field control, etc. (basically administrative functions that affect the system as a whole)
Full – One of the two common daily user levels. This level allows users to perform transactions and ADD new setup information such as Stock Item files and customers.
Standard – One of the two common daily user levels. This level allows users to perform transactions and edit some existing data.
View – Very basic, read-only user level. Users of this level cannot make any modifications to data but can view whatever they need.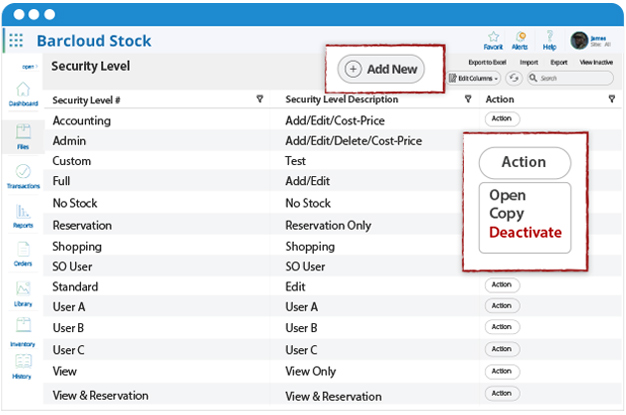 1
2
How to Create WMS Security Levels
1Clicking the "Add New" button will allow you to create a new security level with options chosen by the System Administrator for the users.
2These added security levels can be deactivated from the grid if they are no longer needed. Users could also copy these added security levels if a new security level is needed based on the same options.
1
Configuring WMS Security Levels
1In addition to the section above, beyond the five default security levels, there is also the ability (for Standard or higher BarCloud packages) to create configured security levels. These can be modified heavily in terms of turning off entire functions and options for users. The benefit of creating configured security levels lies in being able to control specifically what a user can do down to whether they can open the inventory screen. Once these security levels are created, they can be assigned to users when creating their user files.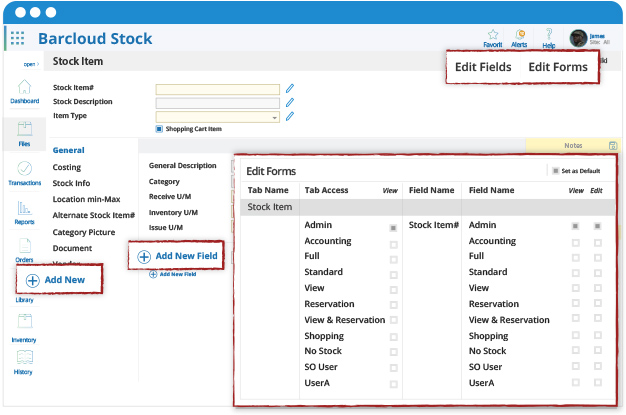 1
2
How to Edit Warehouse Inventory Fields
1When adding new item files, admins can click edit fields to begin directly making changes to forms. Edit Form will also allow users to make changes to tabs as a whole. 
2After clicking Edit Fields, the form will change for the admin user. The form will now allow the admin to rename a field by double-clicking on it and choose who can view/edit a field or if it is required (via the Pencil icon). It will also allow users to add additional fields of Text, Numeric, Date, or URL to the form on each tab.