Keiser University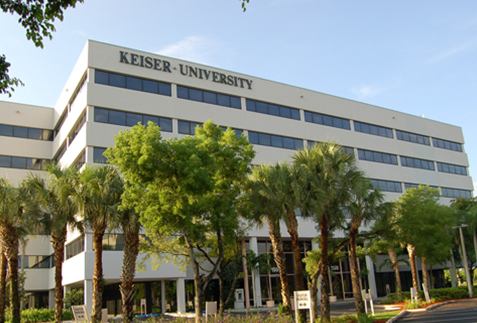 SUMMARY
Keiser University provides educational programs at the undergraduate and graduate levels in traditional and online delivery formats. Christopher Coleman, an associate of the IMS Department, recognized a need to reduce the time it took to track and manage fixed assets within the university. With furniture, computers, software, audio visual and lab equipment located throughout multiple campuses and corporate offices, Keiser University needed a powerful and efficient solution.
THE CHALLENGE
With over 53,000 assets floating around, the main challenge was to accurately track and manage them in real-time. Everything from assets on-hand, and the disposition of assets that are checked out-in, assigned, filed, and received on a daily basis. Manually controlling fixed assets throughout campus locations around the world soaked up valuable time, depleted asset management cohesiveness, and decreased physical inventory visibility. Entering line items manually created human data entry errors and created asset tracking incompleteness. Moreover, the ability to generate necessary reports or accessing information to equipment issued to students and faculty was non-existent.
It was clear, the school needed an asset tracking system to fulfill routine administered assets moving around campuses across the Southeastern United States, Europe, China and Central America. A system with a centralized database tracking the movement of assets that are received and disposed of to improve accountability upon department employees with multiple project locations and campuses owned by Keiser University.
FITTING THEIR NEEDS
In order to successfully meet the challenges on-hand, the team needed an asset tracking system that would allow them utilize insightful capabilities. The ideal system would need to be accessible when performing receive, transfer or dispose actions and could be accessed on a daily basis. Furthermore, staff's audit-related necessity included the ability to exploit standard reporting functions allowing the ability to monitor asset movements, current holdings, and logged transactions.
Keiser University needed a robust asset tracking system allowing them to:
Provide updated information regarding the location, cost center, and movement of assets.
Integrate with mobile devices by utilizing barcode scanners.
Print asset tracking barcodes and catalogs.
Generate management reports and records for auditing purposes.
Conduct physical inventory counts.
IMPLEMENTATION
"Several features in the fixed asset tracking module were more robust than competitor's products. The main product that was used for comparison was the WASP mobile asset system, which wasn't as configurable or user-friendly. These were the deciding factors," said Coleman.
After installing our Inventory System and Asset Tracking , an internal process took place to honor the University's asset tracking guidelines on how the system would be used to track assets. Getting the barcode system up and running was easy and took minimal man hours. All equipment was categorized according to basic system parameters such as the asset number, home location, current locations, model number, serial number and category. Our Inventory System and Asset Tracking's asset specifications were easily met and adapted quickly to the operating procedures at the university.
THE SOLUTION
"We believe that we have saved both time and money. As it is a new system for our operations we gained intangible benefits such as efficiency, security, and the complete control of our asset tracking system," said Coleman.
By using ASAP Systems' asset tracking system, essential tools were utilized to successfully track and control school resources as they continue grow in multiple locations. The day-to-day task of checking out and checking in these items was quickly and accurately accomplished by the use of barcode labels and mobile tethered barcode scanners. By automating daily asset tracking operations, the team drastically reduced the amount of equipment lost or replaced which made management's job more efficient.
Configurable reporting provided a better understanding where equipment is located at all times. Accessing reports increased insight on the whereabouts of key assets such as computers, audio visual equipment and the movement of furniture based on location, ownership, checked out time duration, and scheduled due.
"We use the standard reports from the system for now. The main reports we print and save on a regular basis are a Property Transfer report that shows transfer, receiving, and the disposal of assets as well as an inventory listing. These reports give us a detailed summary of the movement of assets and current holdings," said Coleman.
Keiser University improved efficiency, security and complete control of their assets with the use of ASAP Systems' asset tracking system. The school eliminated significant task redundancy, reduced inventory, and achieved a quick return on investment.