The Cloud-Based Solution for Asset and Inventory Tracking
The Cloud-Based Inventory System and Asset Tracking can be adjusted to fit the particular needs of organizations of any size. Our Cloud-Based Asset Tracking and Inventory System provides continuous visibility and accessibility from any device using a Web Browser and Internet connection worldwide. The powerful all-in-one Cloud-Based system, combines barcode scanners, real-time reporting, the ability to track asset and stock items anytime anywhere.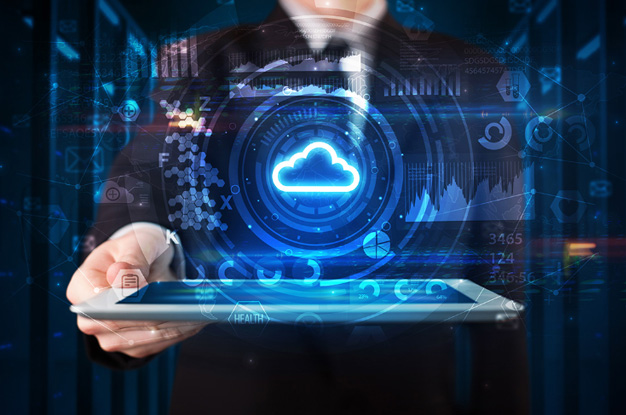 Watch & Learn
Click to see why our Cloud-Based System is ranked as one of the top Inventory and Asset Tracking software on the market.
Key Benefits of our Cloud-Based Inventory and Asset Tracking System
Offline
Mode
If you are somewhere where an internet connection is unavailable or spotty, you can turn the system to its Offline Mode. In Offline Mode, you will be able to track everything the way you usually do, except it will not sync with the rest of the system until you reconnect to the internet.
Shopping Cart/My
Work Assets
The Inventory Requestor and My Work Assets feature functions like shopping carts for your own items. You can view the items you have on hand and request them like a standard shopping cart but for your products. You can also request maintenance and disposal of your assets if broken using this feature.
Sleek
Design
Our cloud-based solution comes with a sleek design that can be configured to hold the information. We do this by allowing you to drag and drop different panels. Our system is built to be used by anyone, so we focus on user-friendliness when it comes to design.
Better
Scalability
Having a cloud-based system is usually more flexible than an on-premise one. You can quickly scale to meet the demand of new employees, allowing them to get to work on the system without having to spend hours just installing applications on their devices.
Cloud Based Inventory Management and Asset Tracking Options
Option 1: Classic Cloud-Based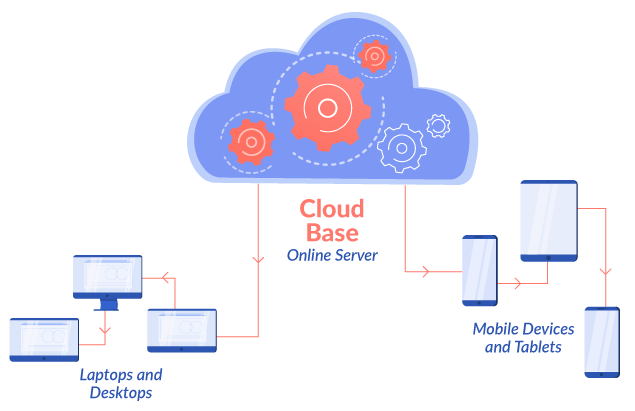 This option is what most people think of when they think of traditional cloud-based systems. Your data is put into a database in the cloud that we host through our servers. You will also be able to take advantage of our secure system with certifications like SOC 2 compliance.

This saves you time on IT work, allowing you to forego setting up servers and security. In addition, this option will let you take advantage of our real-time tracking as long as you are connected to the internet.
Option 2: Dedicated Server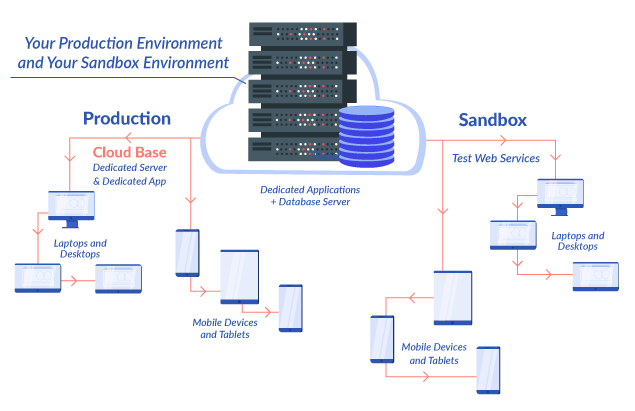 This option is relatively similar to the Classic Cloud-Based option. The only real difference is that your information will be kept on a database separate from all of our other organizations.

We will still host the server for you. This option has many benefits of the Class Cloud-Based systems with the added benefit of having a server hosting specifically for your organization. This option introduces a "Sandbox" environment on top of the usual "Production" environment, which can be used for testing. Both of these environments can be accessed from laptops, desktops, smartphones, tablets, and more.
Option 3: Self Hosted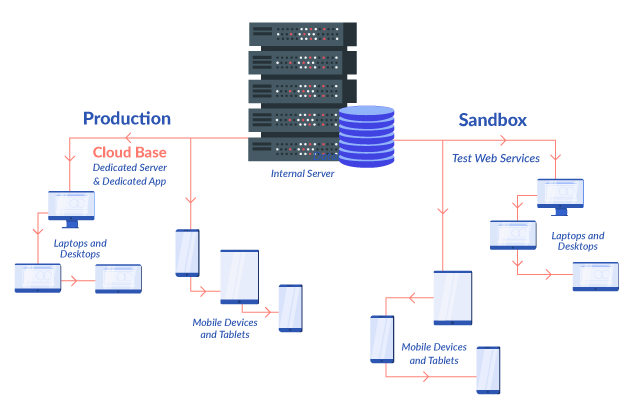 Going one step further, we have a Dedicated Server option. This option allows you to keep your data distinct by hosting your own server and tracking information there. But, of course, it will still be accessible online through your computers and mobile devices.

This gives you greater configurability and allows you to set up whatever you would like as far as IT goes. As a result, this has more of the benefits and drawbacks of the on-premise solution than the cloud-based one.