San Clemente State Beach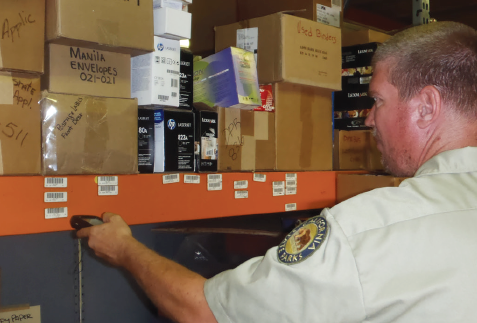 SUMMARY
Among the 280 California State Park units, San Clemente State Beach is responsible for issuing supplies to six state beaches along the "Orange Coast" region of Southern California. In order for San Clemente State Beach to improve their inventory management, they sought an inventory system that could automate tasks with barcode technology.
THE CHALLENGE
The organization needed to find a system that could help them track stock inventory received from vendors, which was then stored, until it was issued out to multiple locations. Also, they needed the ability to search for inventory on hand within an organized and up-to-date database so that they could locate stock room items and fulfill orders as quickly as possible.
"Maintaining our stock inventory by manually counting what we had was a nightmare; the process was totally unorganized," says Laura Griggs from the purchasing department at San Clemente State Beach, a California State Park.
It was challenging for the purchasing team to conduct physical inventory accurately, especially with over 2,000 items in their stockroom. Some of the items included electrical parts/components, office and cleaning supplies, PVC pipes, toiletries, and documents. "We are like the Home Depot of the state beaches," says Griggs. The team wanted to avoid guessing which items filled the shelves, the quantity of items, and who the vendors were. Therefore, it was important for a new system to help improve tracking standards and procedures through accurate recordkeeping of inventory transactions.
FITTING THEIR NEEDS
The organization needed an inventory system that tracked the location and cost of issued out stock inventory and simultaneously made it easy to maintain adequate stock levels. San Clemente State Beach issued stock inventory regularly to six state beaches: Huntington Beach, Bolsa Chica, Crystal Cove, Doheny, San Onofre, and to themselves. Each park unit required different assortments and quantities of supplies depending on the park infrastructure and time of year. Hence the new system needed to be easy for the staff to issue out stock to multiple locations while avoiding stock shortages. Also, because shipping inventory to park units up and down Southern California can be costly, Griggs's team could not afford to mishandle orders and pay for extra shipments.
At times, emergency situations have occurred in California for which San Clemente State Beach needed to send supplies such as signs or sandbags to other park units outside of their district. A new system needed to be configurable enough to handle impromptu orders in situations such as those. Therefore, the abilities to view real-time inventory information and to configure data fields and forms within a system were valuable to their business needs.
IMPLEMENTATION
After receiving on-site training from an ASAP Systems Technical Engineer, San Clemente State Beach was able to quickly implement our Inventory System and Asset Tracking Solution into their inventory operations and routines. The staff began by identifying and counting the inventory items they had on hand. Then, they easily imported the lists of data into the centralized database. Afterwards, the inventory items and shelves in the stockroom were tagged with barcodes so that the team could start performing inventory transactions.
THE SOLUTION
The inventory management system, combined with a mobile barcode scanner, allowed the organization to automatically track and manage all incoming and outgoing stockroom supplies. The barcode-based capabilities made it quick and easy to receive and enter shipments of stock into the centralized database. All data collected from the mobile barcode scanner could be organized in the way the team needed. Once in the system, Griggs and her team could effortlessly search for inventory items they wanted to issue out to their park or to any of the other units in the district. Other inventory management tasks, such as conducting physical inventory, took a fraction of the time to perform.
"ASAP Systems' Inventory System and Asset Tracking Solution saved us so much time. We no longer needed to look through pages of handwritten item lists because we could rely on the accuracy of the barcode scanner and Passport database," says Griggs.
Reporting According State Park Requirements
Before implementing the inventory system, San Clemente State Beach had no way to accurately report on inventory changes that occurred over a period of time. With the reporting feature, the organization had a method for reporting on stock levels and the cost of items on a monthly basis. In just a few steps, the staff could generate personalized reports containing the data categories they needed, and share them with management and other park units. This way, all involved parties could receive an accurate snapshot of the state beach's inventory operations at any time.
Excellent Customer Support Attentiveness
"Under our support plan, every technical stock inventory tracking question we had, big or small, was answered right away," says Griggs. Receiving personalized help is only a call or text away with ASAP Systems. In addition to a direct phone line, email, and live chat, the ASAP Systems online community support allows users to post questions, ideas, and more. This web resource provides solutions to problems and is a forum for brainstorming system improvements.
LOOKING TO THE FUTURE
"An idea that would benefit the state parks is if we could implement an inventory system such as our Inventory System and Asset Tracking Solution to act as a central hub of inventory data and activity across all the units and districts," says Griggs.
As a modular solution, makes it easy for San Clemente State Beach to add (or modify) features and functionalities if their needs or business environment change. For example, if park management would like to monitor new inventory statistics from month to month, Purchasing can create new reports and configure the data fields in the analytics section in order to comply. In addition, if more park units want to use our our Inventory System and Asset Tracking Solution, the system is entirely scalable. our Inventory System and Asset Tracking Solutiont is not a fixed, short-term solution. It is an adaptable, ongoing solution.
Adding the Asset Tracking Module
Over time, the number of parks in the district can expand, and subsequently, the team may be responsible for purchasing more supplies and equipment. In that situation, San Clemente can simply add our Inventory System and Asset Tracking Solutiont Assets to the system and start tracking different groups of items. For state parks, assets include equipment and tools such as shovels, hammers, laptops, mobile devices, radios, etc. With the add-on, makes it easy to keep tabs on equipment that is loaned out (checked out) to employees with the check in/out feature. This is especially helpful if staff requests for equipment start to become overwhelming or if items get misplaced. The addition to the system would immediately solve the accountability issue and increase the thoroughness of inventory management and asset tracking within the organization.