Online Asset Count
Our Barcode Asset Tracking System offers the ability to easily perform an Asset Count using the Online Application. A Dynamic or a Blind Asset Count are two options provided by our powerful System, both offering a unique User Experience.
Watch and Learn - Online Asset Count
What Makes us Best In Class
We built it for everyone and not just the System Users
All Employee /

Non System Users

View Only Users

Department Managers

Concurrent System Users

System Administrators

Perform a Dynamic Asset Count
Learn More
Perform a Blind Asset Count
Learn More
Generate Asset Count Reports
Learn More
Learn More
Functions of Admins
Function 1: Easily Auto Move Assets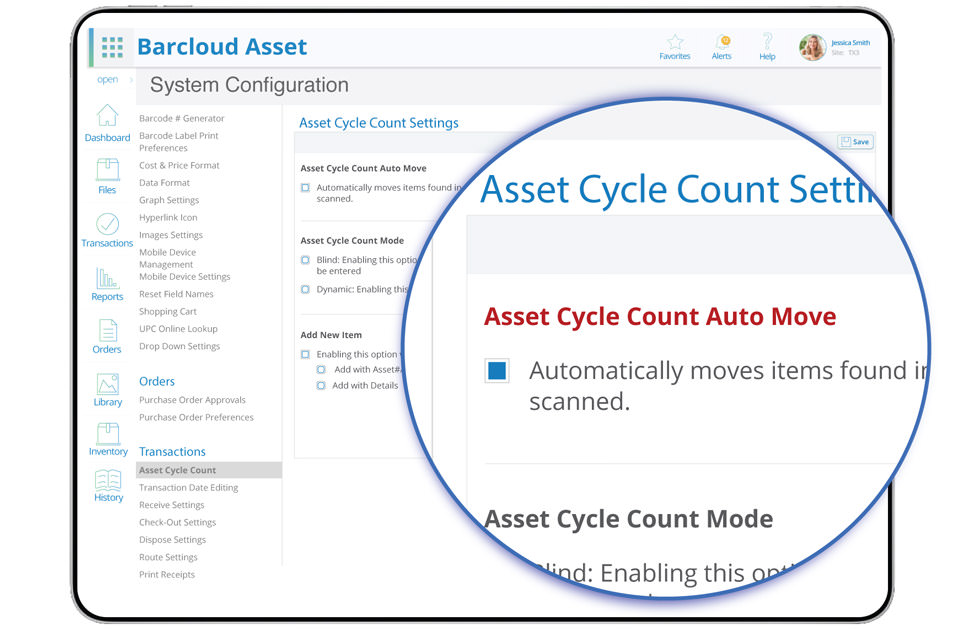 System Administrators have the ability to enable the Auto Move Feature. When enabled, Assets will be automatically moved to the Location they are found in. When disabled, those Assets remain in their original Location, however the System Users will have to manually conduct a move transaction to relocate those Assets to the location they are found in. This will make sure that the Asset Count was accurately performed.
Function 2: Choose how Users can Add a New Asset Item
Administrators can choose between two methods of how System Users can perform Cycle Counts. Users can simply add the Assets by their ID and location, or by their ID, location and all available details in the Asset file form. The assigned method has to be set once and then Users will keep on adding Asset data accordingly.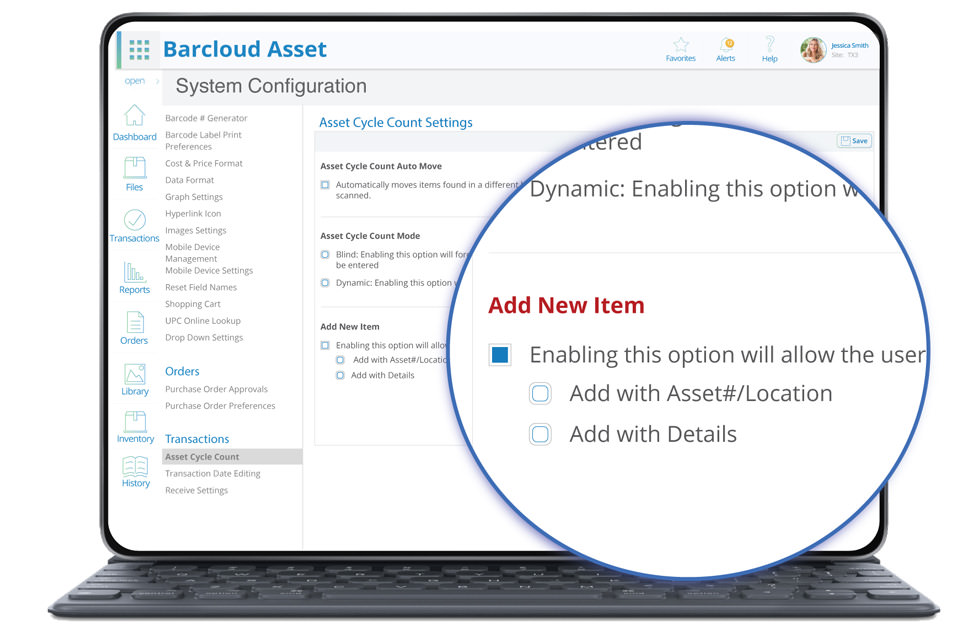 Function 3: Perform Blind or Dynamic Asset Cycle Counts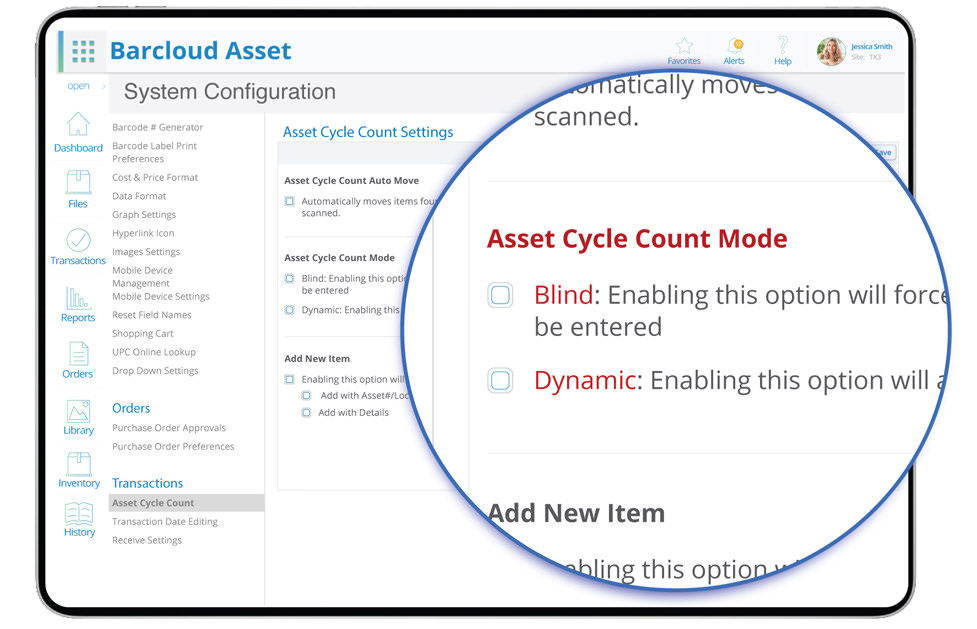 When performing the Asset Count, administrators can assign System Users to do Blind or Dynamic Asset Cycle Counts. 
Option 1: Dynamic Asset Count where Users will be able to see previous Asset records.
Option 2: Blind Asset Count where Users will not be able to see previously added or removed Assets.
Option 1: Dynamic Asset Cycle Count
Using this option, Users will follow a 3 steps process:
Step 1: Choose a location 
Step 2: Start the

Asset Count

, then the

User

has to physically walk to each

Asset

and either scan the

Barcode

, manually type the SKU number, choose it from a dropdown menu, or simply select it from the grid

Step 3: Check the User interface for "Found Items" and "Unidentified Items"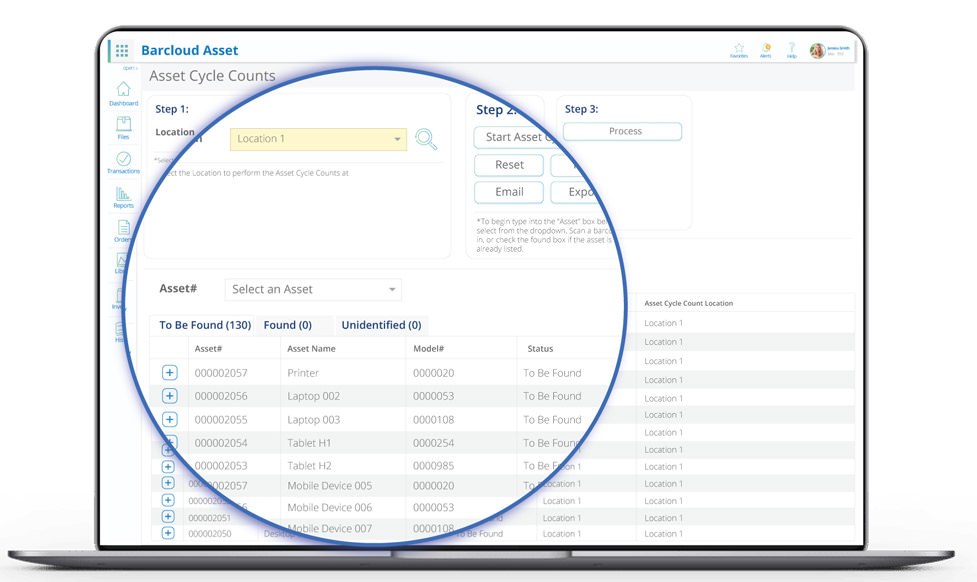 Option 2: Blind Asset Cycle Count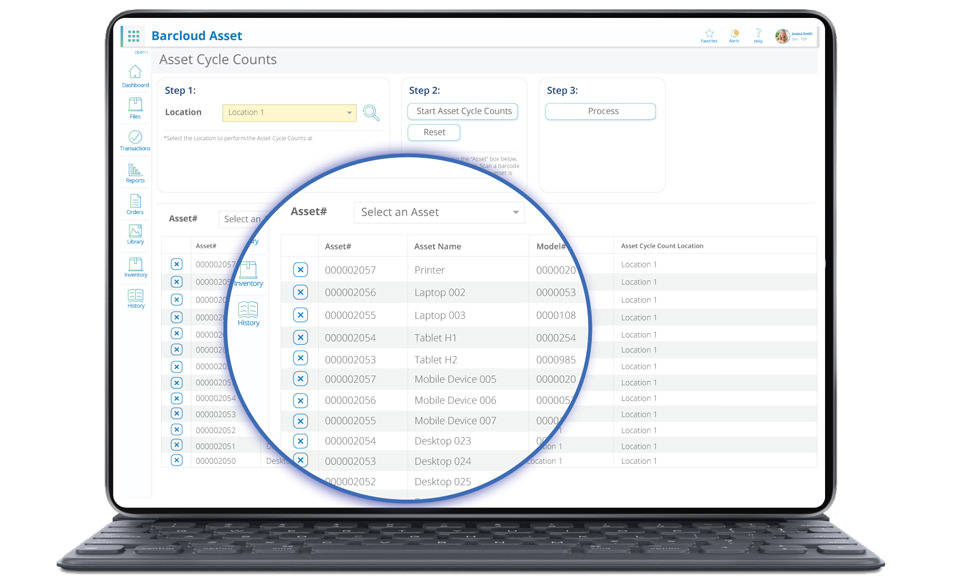 Using a different User Experience, Users will follow these 3 steps:
Step 1: Choose the location of the desired Count 
Step 2: Start the

Cycle Count

of all the

Asset Items

found in that location, one by one, each Asset item is shown in a grid and will display the Asset ID and the location

 

Step 3: Press the process button
Unlike the Dynamic option, in this option Users are not afforded the opportunity of a sneak peek.
Function 4: Generate Asset Cycle Count Reports
Users can generate three types of Asset Reports related to the Asset Count using our Barcode System. The "Asset Cycle Count Report", and the "Asset Cycle Count Missing Report" are two custom reports that Users can generate. One pre-built report that Users can generate is the "Asset Cycle Count Moved Report".