Inventory Management System
Gain Accurate and Efficient Inventory Management throughout your organization, with a top-rated Inventory Management System.
Complete Inventory Management System
ASAP Systems' award-winning Inventory Management System, has been a leading solution for 32 years. The powerful solution supports barcode technology for more accurate and effective inventory management over your available inventory. Using our Management System is essential to managing inventory items and ensuring smooth functioning operations while items are constantly in movement throughout any storage facility. Gain complete inventory management in warehouses, stockrooms, supply rooms, work trucks, delivery vehicles, and more.
Inventory Management System - Video Overview
We provide one of the best and widely used Inventory Management Systems. Watch this video and learn more about our Inventory Management System and all about the features and advantages it provides for any organization.
Popular Inventory Management Features that will streamline your business
Kitting
Allows the ability to accurately track order fulfillment and assembly process, where separate but related components are combined as a set to make a single SKU or unit.

Shopping Cart
Enables organizational employees to log into the Shopping Cart and browse the available inventory in their own warehouses/stockrooms.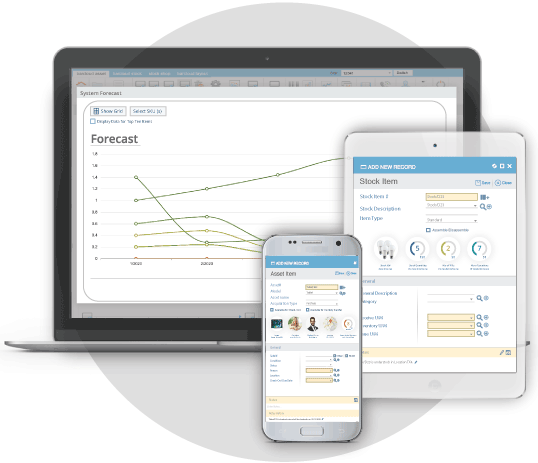 Inventory Forecast
This Inventory Feature will utilize trends from specific vendors and inventory consumers to forecast future inventory replenishment needs and enhance strategic purchasing decisions.

QuickBooks Integration
Offers the ability to perform inventory tasks and the process of generating bills, invoices, and item receipts.
3 Top Benefits of our Inventory Management System
It's time to upgrade to a complete, Inventory Management System.