Inventory Tracking In the Palm of your Hand
ASAP Systems' Inventory System Mobile App puts all the power in the palm of your hand. This feature offers the ability to manage stock inventory quickly and easily with just smartphones and tablets—anytime, anywhere. Gain powerful insights and analyze the data you acquire using just a mobile device.
Inventory Mobile App Features
This feature is an extension of the Inventory System that automates Inventory Control tasks enabling users to effectively manage inventory with no more than a mobile device. Whether you are inside your office or working remotely, you can stay connected and wirelessly sync your inventory data, while performing common stock inventory transactions including: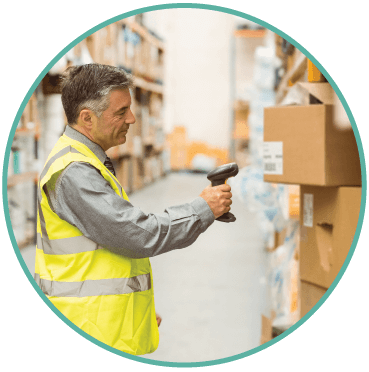 Barcode Scanning Made Simple
Barcode tracking made easy with only a mobile device.  Easily scan barcoded stock, supplies, and consumables using any iOS/Android smartphones and tablets. Our Inventory Mobile App offers an intuitive interface that allows users to quickly and effortlessly perform everyday inventory transactions and tasks.
Inventory Mobile App Advantages
Enable BYOD (Bring Your Own Device)
Employee-owned mobile devices have made their way into the workplace, and it now makes sense to use them for inventory tracking purposes.
Self-Hosted and Hosted Options Available
Sync your data to your own locally-installed inventory database or let ASAP Systems expertly and reliably host your inventory database.
Offline Mode
Continue to manage inventory in connectivity dead spots and remote locations.
Inventory Analytics
items, expiring inventory, low inventory, stock items by quantity, and more in easy to read charts and graphs all in the palm of your hand.
File Management & Search
Search for and view stock item data in from any mobile device.
Perform Physical Inventory in Half the Time
Using a point-and-shoot barcode scanner app, stop wasting time trying to manually identify assets.
Gain Inventory Control and Accurate Tracking with our seamless and intuitive Inventory Mobile App. Give us a try!