Inventory Order Management Feature
Streamline your order management with our powerful Inventory System
Inventory Order Approvals Made Easy
Inventory System users will be able to access the Approvals menu from the System configuration screen. They may also assign vendors or customers to be included within the cycle, choosing one or two approval cycles. Without assigning vendors or customers to the cycle, the orders will be automatically approved.
Within this menu, users are asked to select the first and second approvers, offering the option of appointing either the creator of the order or another administrative security level person. In addition, there is an option for notifying those associated with any pending requests, approvals, or rejections by email.
Watch and Learn - Inventory Order Management Feature
Learn how the Approval Cycle facilitates Inventory Tracking. The OMS System helps you manage Business to Business purchases and sales, offering more control over assets.
The Inventory Approval Cycle process
Manage orders effectively and easily with the Approval Cycle. Our Inventory Order Management Feature provides notifications of purchase and sales activity through emails and offers the chance to review orders before being sent. Once the order enters a cycle, it must be approved by all parties for it to be completed..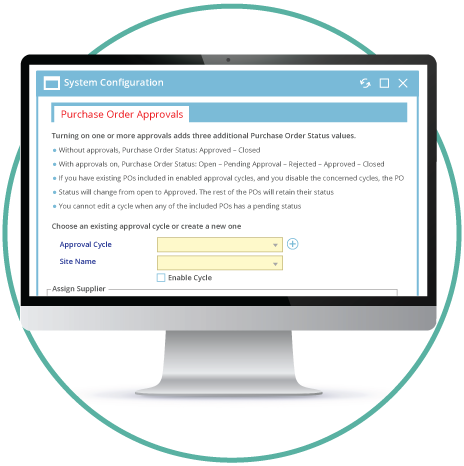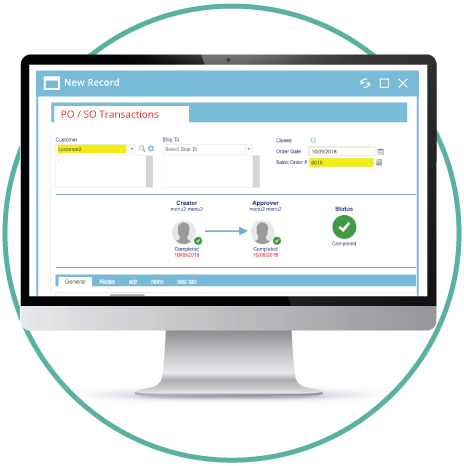 The Completion Process
To create a Purchase or a Sales Order that has been assigned an Approval Cycle, choose the vendor or customer linked to the cycle. Make all the changes required within the order before submitting it as none can be made after submission. Once the order enters a cycle, it must be approved by all parties for it to be completed. Only after approval, can the order form be used in the Receive and Issue transactions.  If the first approver rejects an order, its status is automatically rejected without needing to go through the second approver.
Ready to make your life easier? Give us a try!