Inventory Min/Max Feature
The most effective Inventory Solution for accurate Inventory levels.
Maintain Optimal Inventory Levels
Knowing how much inventory is on hand and how much can be sold or transferred is critical to an organization's success. Our Inventory System's Min/Max Feature offers the ability to set configurable minimum and maximum inventory level thresholds for each storage or warehouse location. This feature enhances order management and helps to avoid stockouts or overstocks across multiple locations.
Inventory Min/Max Features
Make Well Informed Decisions While On the Go
Be the first to know when inventory levels fall outside of predetermined minimum and maximum levels with our Inventory System's Min/Max Alert Feature. Our Inventory System's Alert settings will allow users to select between an email or SMS text message, as well as the ability to choose from a list of recipients. The message can be customized to make the most sense to the recipient and greatest impact on effective decision making.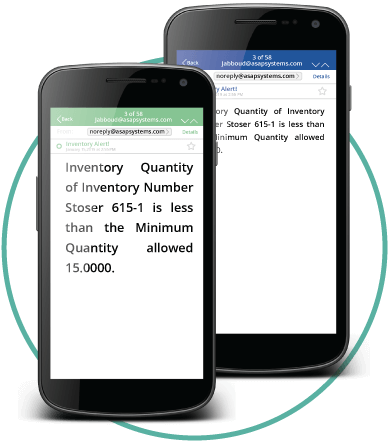 Inventory Min/Max Key Benefits
Receive stockout or overstock warnings in real-time.
View Min/Max information on your dashboard or reports.
Set custom stock thresholds and triggers for each inventory item
Intuitive reordering of batch inventory.
Control inventory levels globally and/or at specific locations.
Request a more in-depth Demonstration now !