Inventory Breakdown feature
Gain the ability to track accuratly Inventory items with our Inventory System.
Inventory Breakdown
Breakdown is an Inventory System Tracking Feature that enables an inventory item to be broken down into multiple pieces, with the ability to track those pieces. This powerful feature offers users the option to take one stock item and break it down into multiple stock items. With the Inventory Breakdown Feature, users have the ability to choose the stock item, the quantity the item should be broken down into, and at what location.
Watch & Learn - Inventory Breakdown Feature
Watch and learn how the Inventory Breakdown Feature allows users to easily select any stock item, break it down into bits, choose the quantity, and the location. Also, with capabilities to add a note to the transaction.
Perform Three Transactions Within One Function
Within the Breakdown Feature, users are able to perform the Issue, Receive and Dispose Transactions.
Total Inventory Control
The Inventory Breakdown Feature can be controlled in the Security Level settings, enabling administrators the power to determine who can perform the Breakdown Transaction, allowing for increased accountability over transactions.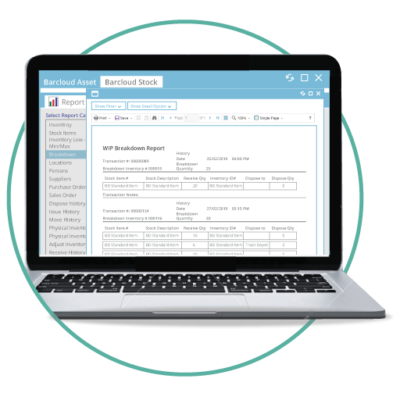 Generate a Breakdown Report
The Inventory Breakdown Report shows a list of all items received from the breakdown. The fields can include: Inventory ID#, Stock Item#, Breakdown Inventory ID# , Breakdown Quantity, and Breakdown Location…
Ask for a more in-depth Demo and Learn more on our Robust System!