Inventory Stock to Asset Feature
Expand your tracking capabilities with this advanced Feature
Dual Inventory and Asset Tracking Capabilities
Stock-to-Asset is a unique function developed to assist companies or teams that need both Inventory Management and Asset Management efforts. Our Barcode Inventory System's Stock to Asset Feature allows users to Issue-Out a stock item or kit from the warehouse/stockroom and simultaneously generate a new Asset file for tracking and accounting purposes. The Stock to Asset feature makes it easy to take serialized stock inventory and reclassify them as assets, automatically carrying identification information such as serial number and cost with them.
This feature is only available to users with both a Stock System and an Asset System.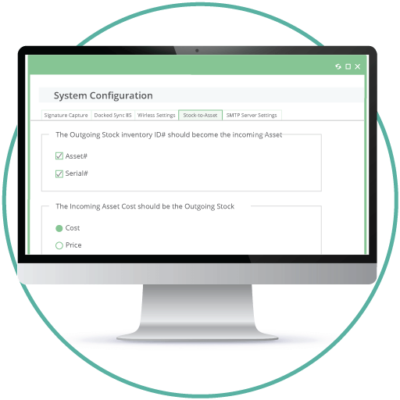 Unified Inventory and Asset Management
Our Complete Inventory and Asset Tracking System allows stock inventory levels to automatically adjust. In addition, users can begin tracking the converted item as an Asset, including its location, maintenance, warranty date, and other attributes. Our powerful System allows users to automatically shift the method of tracking from Stock Management to Asset Management with one transaction.
Simplified Transition Between Two Intuitive Systems
Eliminate the process of having to enter transaction data twice and the possible data-entry errors that could occur. Our Inventory Management System simplifies the management of inventory that is originally received in the warehouse or created via assembly as individual items. Once the item is issued out and installed at a job site or customer location it will be individually tracked throughout its useful life.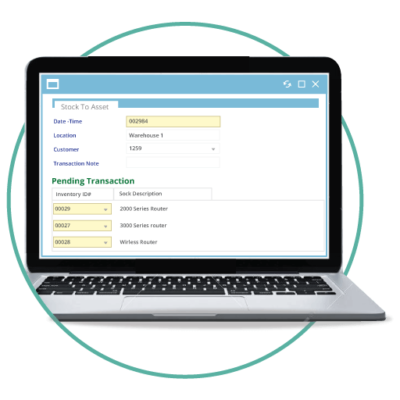 Stock to Asset Benefits
This transaction or conversion allows users to search for a serialized or non-serialized inventory item that is issued to a customer or location and assign it an asset number and model number. The quantity and associated cost are automatically adjusted in the inventory database and users can begin tracking pertinent asset attributes such as maintenance, warranty, and location.
It's Time to Upgrade to our All-in-one Inventory and Asset Tracking System!