Lake Monticello Fire Department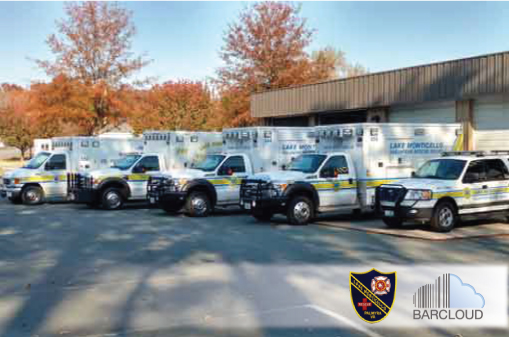 LAKE MONTICELLO FIRE DEPARTMENT
The Lake Monticello Fire Department provides emergency services to the Lake Monticello area and Fluvanna County. The Virginia based department is staffed with firefighters that remain on-call for emergency service, 24 hours a day, 7 days a week.
THE CHALLENGE
The Lake Monticello Fire Department was faced with numerous challenges in regards to inventory management. Mark Novak, a LMFD representative explains, "We were having items disappearing from the department and wanted a better way to track and have a true inventory of our stock. " The department was in need of an effective Inventory System to assist with asset tracking and inventory control. The department also wanted a more efficient process to issue equipment to firefighters and maintain their fleet of trucks. In addition, they required a web-based system to provide accurate reporting that could be managed from anywhere.
IMPLEMENTATION
It was our Barcode-Based Asset Tracking and Inventory System to the rescue! The fire department's assets were constantly changing as their asset items were routinely damaged or missing. Mark Novak explains, "We also have a lot of gears to keep track of. BarCloud is assisting us to have one source to track and implement equipment needs and maintenance of our trucks." Upon implementation to help further meet the demanding needs of the LMFD, Mark Novak continues, "Your company staff worked with us on solutions to make this happen and still are working with us with some enhancements." The fire department will benefit from our Asset Tracking Solution with its easy to use and configurable data fields. Where they can rename any asset data field to match their terminologies.
TANGIBLE BENEFITS
Our Barcode-Based Asset Tracking and Inventory System has improved the efficiency and enhanced productivity within the LMFD, allowing firefighters to focus on saving lives. Using the Check Out / In Feature, firefighters are able to easily Check-Out / In asset items as needed. The department is able to have accurate inventory information allowing them to make more strategic purchases, saving time and money. Our Asset Tracking and Inventory System is also allowing the department to produce configurable reports to better manage expiration dates on gears and fire truck maintenance. The Asset Tracking System's Maintenance Feature offers the ability to schedule maintenance events and ensure every asset is accounted for and properly maintained.
CONCLUSION
Our Barcode-Based Asset Tracking and Inventory System was the perfect solution for the Lake Monticello Fire Department. ASAP Systems is pleased to have been able to support first responders by providing an easy to use system for their inventory management and asset tracking needs, proving that even our heroes need help sometimes.