Shure, Inc.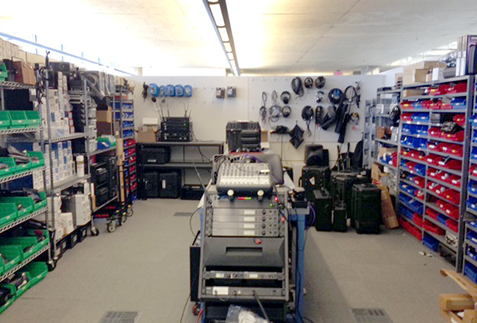 SUMMARY
A part of the relationship between Shure and their endorsed artists involves Artist Relations loaning the company's audio equipment to the artists while they perform on tours, both nationally and internationally. When any of their endorsed bands needs gear for an upcoming show, for example, it's Artist Relations' responsibility to find the product in their inventory, ship it to the band, and make sure the product is ready for use when it is returned. In order to optimize the operation of loaning inventory, Shure wanted to implement automated equipment tracking system.
THE CHALLENGE
Shure's Artist Relations was spending an inordinate amount of time and effort managing their ongoing inventory tasks of receiving, locating, and issuing out audio equipment. The team had over 6,000 individual assets in circulation around the world that they were attempting to track using Excel spreadsheets. The sheer quantity of inventory coupled with the frequent movement of assets overwhelmed the staff and encouraged the search for a more scalable and dynamic system.
"Our spreadsheet notes and inventory counts never seemed right so we wanted to correct that with an efficient all-in-one solution to streamline our efforts," said Nelson Arreguin, an associate in the Artist Relations department.
It was challenging for the department to determine what assets they had on-hand in a timely manner. Without an automated inventory system, it was up to the Artist Relations team to perform the painstakingly slow process of physically searching for specific assets stored at either office. They would have liked to be able to depend on their spreadsheets to find asset information but the potential data entry errors and omissions made the data unreliable. Thus, the team wanted a way to locate specific assets in real time, to immediately fulfill equipment requests for artists.
Adding to the challenge was the inability to uniquely number each asset within the array of products and accessories they kept in storage. The department was not labeling or tagging their assets in any way. In addition, the team was having trouble locating the assets that they had loaned out. For example, if the department shipped numerous microphones and receivers out to its various artists performing around the world, it was difficult for the staff to pinpoint which band had what products and how long had they been there. In order to establish some organization and track the movement of assets, Shure sought to incorporate the use of barcode labels within a location-based system with a centralized database.
FITTING THEIR NEEDS
Knowing that tracking the gear was key, Arreguin was tasked with searching for an asset tracking system with certain user-friendly functionalities. "We wanted a system that anyone on our team could learn, and learn quickly, since as the saying goes, 'Rock and Roll never sleeps'," said Arreguin. On the top of his list was an effective check in and check out feature for assets. The functionality would allow Artists Relations to quickly assign certain audio-equipment temporarily to their artists from either office location. Previously, it was a hassle for the department to manually document that an asset was checked out to a band, and even harder to organize that information on aggregate. Hence, the team needed a system that included wireless barcode scanners so that they could easily pack and distribute their loaner equipment.
Additional tools that the department was looking for in a robust system were a practical alert functionality and an extensive reporting tool. If, for instance, the staff momentarily lost track of how many SM57 microphones they had left in inventory because they were busy assisting artists performing at the GRAMMY'S, the staff would want to be notified that the inventory level was low or that it hit the reorder point. Furthermore, after the show ended they would want to generate a report to see the quantity of each device that remained in inventory. In order to assist them with these entertainment-focused scenarios, Shure reached out to ASAP Systems inquiring about their inventory and asset tracking systems.
THE SOLUTION
ASAP Systems' Inventory System and Asset Tracking Solution application provided Shure with the user-friendly features and mobile asset tracking capabilities they were looking for.Our Inventory System and Asset Tracking Solution's barcode-based functionalities combined with a centralized database allowed the Artist Relations team to automate their inventory tasks starting when they received equipment from the factory or clients. The staff gained the ability to perform inventory transactions from their desktops instead of physically having to go to their different storage locations. Tracking the real-time movement of their assets, performing physical inventory, and loaning equipment to artists was no longer a time consuming set of chores, it became a fast and automated process.
Increased Visibility and Improved Scheduling
The inventory solution provided the organization with accurate visibility of assets at multiple locations and tremendously helped in planning out the scheduling of assets to be loaned out.
"Knowing what is where and when it's coming back helps us plan our support more effectively and the Inventory System and Asset Tracking Solution allows us to do that," said Arreguin.
By running reports on what equipment is being returned and when, the department could plan accordingly and ensure artists receive what they needed at the right time. This benefit helped Artist Relations support their artists' production crew 24/7/365, because as Arreguin puts it "…rock and roll never sleeps… so there can't be any delay when sending out equipment to a show."
Efficient Equipment Loan Process
With the fast turn-around time needed for these high caliber audio-electronic assets, Shure benefitted from the quickness of the barcode-based check in/out functionality. The staff no longer needed to spend time looking for equipment or guesstimating the quantity of inventory on-hand. All that was involved was scanning the assets they needed to issue out. Arreguin asserts, "the magic is in the check-in process… minimizing the steps to find and prep the equipment for the next artist allows for a much faster check-out when we're racing the clock to catch the UPS truck." Ultimately, the multiple hours of time saved translated to more time spent on value-add tasks for artists that increased customer satisfaction and engagement.
Although the audio electronics company maintains great relationships with their artists and has remained accountable for the assets they loan, our Inventory System and Asset Tracking Solutiont's automated alert notification feature is an added bonus that helped them ensure items were returned on schedule. Additionally, Shure used the alert function to notify them when it was optimal to order additional equipment from manufacturing and keep balanced inventory levels. With Passport, the company will increase utilization of existing equipment in inventory and limit carrying costs.
Most importantly, the company was very satisfied with the ability of the Inventory System and Asset Tracking Solution to fit their unique process right out of the box using the configuration settings. Arreguin admitted, "there's never a normal day in our world," referring to their entertainment specific operation and impromptu inventory tasks. Shure's staff streamlined several of their inventory steps by easily configuring the system to their liking, including the user interface, data fields, alert notifications, reports, and barcode labels.