Connect Our Inventory System and Asset Tracking Solution and Your Favorite Apps with Zapier!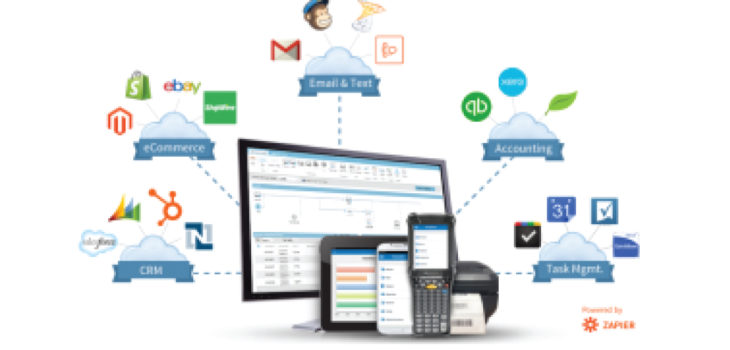 If you think about it, not a single workday goes by in which our inventory system and asset tracking solution users don't use another web service. Whether it's for task management, note-taking, communications, or financials, an array of web-based business applications are frequently being utilized separately, but in combination with an inventory or asset system. Our inventory system and asset tracking solution users have relied on these apps to fulfill different needs, and nowadays, it makes sense that these apps should all work together. The only inconvenience used to be the amount of time and effort it took to integrate them through code and development work. Thankfully, Zapier has made it easy to connect one app with another without the need for developers!
What is Zapier?
Zapier is an integration tool that lets you sync data from web apps you and your team are already using. They have built an integration library of over 300 apps that can potentially connect with our inventory system and asset tracking solution. Each link or connection between two apps is referred to as a "Zap." Zaps run automatically to move and manage data without any work on your behalf.
How can I use it with this inventory system and asset tracking solution?
Here are three of the many ways Zapier extends the usefulness of The System:
1-Email and Text
Send custom emails or texts when specific in our stock or asset activities occur.

For example, your supervisor would like to automatically receive a notification when a specific item is received, moved, checked out, or issued.
Popular Apps: Gmail, Microsoft Outlook, Office 365, etc.
2-Add a new person, customer, or supplier in the Inventory system when a new contact is added in your CRM app.
For example, if you are manually adding dozens of new contacts into both systems on a regular basis, you can now cut the process in half.
Popular Apps: SalesForce, Hubspot, Zoho, etc.
3-ECommerce (Coming Soon!)
Add customer or supplier information from your eCommerce or online payment app when there is a new customer/supplier.

Tired of leaving the Inventory system to access your eCommerce or payment app so you can transfer data manually? Now you can automatically pull specific information from your online payment platform and turn them into sales orders in the inventory system and asset tracking solution.
Popular Apps: Magento, Vextra, Shopify, PayPal, etc.
How do I Get Started?
#1 After you've signed in to your Zapier account, click on "Make a Zap!" in the main menu
#2 Choose a Trigger app and an Action app from the available drop-down menus
#3 Then you'll need to connect your  Account to Zapier. You will be asked to start the process of inserting your Inventory System and Asset Tracking Solution credentials
#4 You can then enter your Customer Key, which you can find by following the steps under "CustomerKey (required)" beside
#5 You'll then be redirected back to Zapier and the Account will have been added and tested, if everything is good to go you'll see this