#InsideASAP: SaaS & Inventory Systems with Mary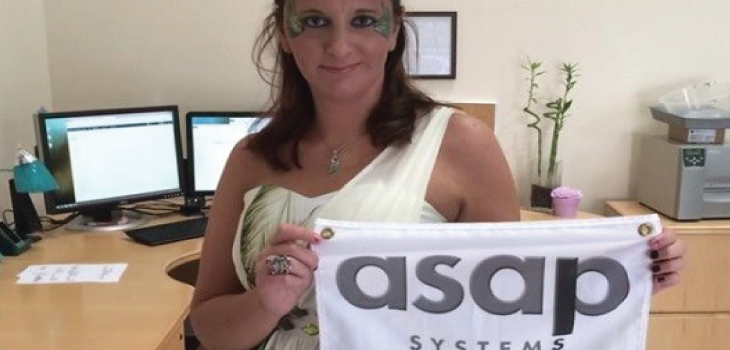 Q: When it comes to inventory systems and barcode tracking solutions, what are some features that ASAP Systems' clients appreciate compared to competitors?
A: Most inventory system and asset tracking solutions are an out of the box solution; what you see is what you get. This system has the ability to grow and expand with your business as your tracking needs change. In addition, our competitors do not allow you the option to configure their solutions.
The inventory and asset tracking solution allows users to efficiently use inventory systems and asset tracking solutions by having built-in features that allows them to add and rename fields, create custom reports, as well as personalize the way the solution looks. In addition, you will receive one-on-one customer service throughout your subscription to make sure your questions are answered.
Mostly all customers we see go to another solution come back within a year or two as they are unsatisfied with the customer service and limitations in the system.
Q: How has Software-as-a-Service (SaaS) changed the inventory system and asset tracking industry?
A: Inventory system and asset tracking have changed tremendously due to Software-as-a-Service. Different from the traditional model, in SaaS the software is already installed and configured, saving you time as there is no installation required. Since the software is now browser-based; inventory, barcode, and asset tracking systems are more accessible.
Q: How does ASAP Systems adapt and use SaaS to better their services?
A: ASAP Systems' use of Software-as-a-Service the best inventory system and asset tracking solutions. Some of the benefits of Our Inventory and Asset Tracking Solution made possible with SaaS are:
You can access your solution from anywhere in the world where an internet connection is made
Since ASAP System hosts the database, there is no IT team required and nothing to install
Our mobile application offers a built-in barcode scanner, which works on devices you're already using so you can access information from a smartphone or tablet without additional hardware
Customers have subscription options such as monthly, quarterly, annual, or multi-year agreements
Updates from your inventory system are in live and real-time, via email and SMS alerts, so you will not miss a beat regardless of where you are.
Q: What is one of the most unique asset tracking inquiries you can recall? How did ASAP systems effectively remedy their tracking needs?
The most unique asset tracking inquiry that I can recall was the need to track corpses. ASAP Systems helped them print custom unique asset tags with their required information. The customer was able to follow those assets through their entire lifespan (no pun intended) until they were disposed of accordingly.
Our System provides the ability to rename almost any field in the system according to the customer's nomenclature and data organization requirements, which makes us versatile and useful in every industry.
Q: What are some of biggest complications that clients face when it comes to equipment tracking in a large quantity? How does ASAP Systems' inventory control offer a solution?
A: The biggest concern clients have when it comes to equipment tracking is the insecurity of tracking. Most clients coming in have no original solution or currently have something as basic as excel. Secondly, they fear that employees are not tech-savvy enough to implement and utilize an inventory and asset tracking system to its full potential.
How ASAP Systems overcomes this hurdle is that we make sure our clients are confident in their understanding of how our system can work to benefit them. We educate users through our trials, pieces of training, and tech support team. We are constantly following up with clients to make sure they are on the right track.
If you have any questions for Mary or our ASAP Team, please leave a comment. Interested in our product? Get a 21-day trial by clicking below!