Top 5 Benefits of Inventory Control for Energy Companies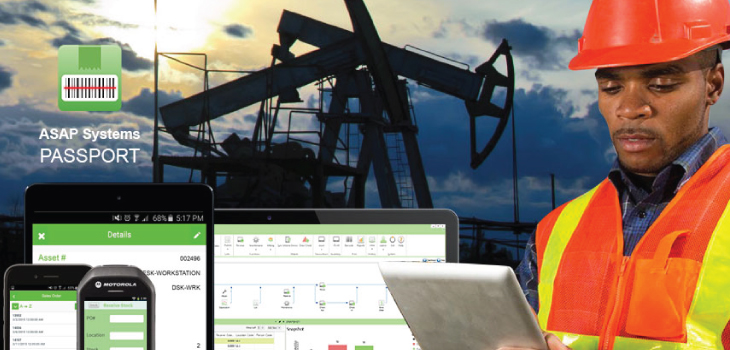 Oil and Gas Companies have always needed to track equipment and assets. Recently, the industry is experiencing pricing changes and rising costs, and many companies have used our Inventory System and Asset Tracking solutions with barcodes to manage and protect their inventory and assets.
Many companies have lost money on equipment, the stock they can't sell, or broken inventory.  Instead of tracking everything manually, it is better to have an automated Inventory and Asset tracking system.
Oil & Gas Companies have unique challenges when tracking inventory.  Many assets and inventory can be at different locations (rigs, well sites, yards), and because those locations aren't permanent, it can be a problem tracking everything.
Using ASAP Systems' Inventory and Asset tracking solution, you can track equipment, inventory, materials, tools, and supplies at all locations, and easily move inventory between them.
Track Inventory while in the Field
Our Mobile App Access is designed for Field Operations, with both online and offline asset tracking. Our system lets Oil, Gas and Solar companies to handle inventory management and barcode scanning on-the-go.  You can manage your inventory in connectivity dead spots and remote locations. Save time by saving your data in the mobile app and syncing it in the cloud when you have Wi-Fi or cellular connectivity.  Your field staff can use their smartphone to see assets, check stock and locations, and even check-in/check-out equipment like tools.
Reduce Operational Costs
Operations and logistics can take up to 15-30% of the company's total budget.  Using an automated Inventory & Asset tracking system lets you track your Opex, and lets you keep those costs down. ASAP Systems' solution reduces your need to quickly buy a piece of equipment at high prices because your crew needs it immediately; now you know exactly where it is.  A lot of times a yard supervisor buys too much equipment and wastes money because you already had it.  Reduce downtime and costs by having the right inventory in stock.  No one wants to shut down a job site because they ran out of tools or supplies before they finished the job, or went way over budget.
Manage Equipment
Inventory management systems allow you to track equipment at different sites, track tools, and move equipment to the next project site swiftly and easily.  It also lets you schedule maintenance in advance, tracks when you need to return rental equipment, and even keep tabs on the damaged stock to replace.  Inventory asset management benefits your bottom line.
Office Management
ASAP Systems' solution allows you to easily create sales and purchase orders, so you get paid faster.  You can also manage subcontractor costs and payment authorizations, which makes your bottom line better. ASAP Systems' solution also integrates easily with other tools such as QuickBooks, so tracking is even easier.
Configurability Reports
Need to know what inventory is at your south location?  When was the last time equipment was checked out or returned to your newest yard?  What equipment is damaged and needs to be written off and replaced? You can customize all reporting for what you need.  ASAP Systems' solution allows you real-time access to critical inventory and assets from anywhere.
Inventory and Asset Management solutions can change how your company reacts in a changing industry: now you can be proactive and plan for the future.
If you are a large Energy E&P looking to manage subcontractors and equipment costs, or an Oilfield service company wanting to run a better business, ASAP Systems can help you manage your inventory and assets easily.