Inventory Alert Feature
Learn more about our Inventory Alert Feature and streamline your Inventory Management.
Automated Inventory Alerts
The Inventory System user can pre-configure a minimum and maximum quantity trigger for the total stock amount across all storage locations. Once a stock level hits the selected amount trigger, the system sends out a configurable alert via SMS text and/or email to notify all selected personnel. This Feature can avoid overstocking or understocking.
Inventory Alerts Feature Advantages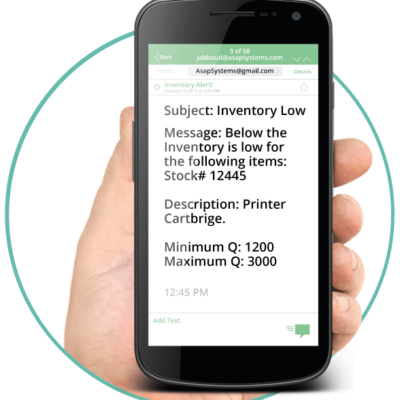 Set Inventory Alerts for:
Inventory Too High
Too Low Inventory
Inventory is Out
Expiration Dates
Received, Disposed or Moved Inventory
Inventory Alerts Capabilities - Watch & Learn
Watch the overview of how to set up Inventory and Barcode Tracking alert notifications, including the highly effective Inventory Low report.
It's Time to Upgrade to a Complete Inventory System